LONDON, ENGLAND, October 14, 2011 (Press Release) – This month Slotland, one of the world's most trusted online casinos and home of some very popular no download slots, celebrates its 13th birthday. Slotland was one of the very first online casinos and their dedication to keeping players happy has set the standard for the entire online casino industry.
$8500 in Birthday Casino Bonuses Available
At the end of the month a random draw will award $8500 in bonuses to 50 players that have deposited between October 11th and 30th. The top prize winner will receive $2000. $50 no-deposit bonuses for current and new players and up to 100% Birthday Builder match bonuses keep the birthday party going this week. Next week there'll be 50% match bonuses during Birthday Happy Hours Friday and Saturday evenings.
"I remember the first time I played at Slotland," said Jessica V. who's been playing at the video slots and video poker site since the early days. "The internet was so new then – remember dial up?! I'd never seen anything like Slotland and I'd certainly never gambled online before. I just stumbled onto Slotland with a friend one night. Back then there were only a couple of simple games – not like what they have today – but it was the most fun either of us had ever had with the computer and, well, here I am thirteen years later still spinning the reels at Slotland!"
"A lot has changed in that time," she recalled. "The Internet is so much faster and the games are so elaborate now! Some things will never change though — Slotland still has some of the sweetest customer service people anywhere!"
"You know what would be a great way to celebrate this milestone?" asked Slotland's manager, Michael Hilary. "I'd love it if we had a big progressive jackpot winner right in the middle of the birthday party! In the time I've been with Slotland it's only gotten this high a couple of times and to have a record-breaking jackpot this month would just be icing on the birthday cake!"
Slotland's progressive jackpot is currently over $150,000 and hasn't been hit since June. Since it's usually won before it gets that high, and seldom goes more than six weeks without a major win, Hilary could very well get his birthday wish. The last big jackpot win was on the Witch's Brew slot machine but since all slots games are tied to one jackpot the next winner could be playing any of Slotland's 22 one-of-a-kind games.
Slotland is a no download casino. None of its instant-play casino games can be found at any other online casino but six can also be found at Slotland's mobile casino.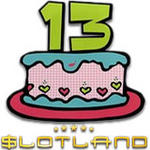 About Slotland
For more than thirteen years Slotland has been one of the most popular and trusted online casinos in the world. Established in 1998, it is renowned for its fairness, security and sincerity. Slotland.com's progressive jackpot is won on average every six weeks and usually stands at over $100,000, making it one of the most -won jackpots on the internet. In 2005, the pioneering entertainment company introduced its first slot machine for the mobile phone/PDA platform. In 2008, Slotland launched WinADay Casino, a whole new kind of online casino experience with beautifully illustrated whimsical, one-of-a-kind instant-play Flash games.
Slotland Online Casino Celebrates 13th Birthday