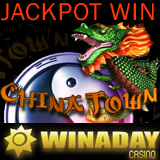 7 March 2012 (London, UK) – A young mother with a fascination with anything Chinese has struck it rich playing the Chinatown slot machine game at WinADay Casino. Vera M. just won $255,462 playing her favourite slot machine game.
"I'm just so excited I don't know what to say!" said the winner. "I love playing casino games online. My slots are a great break when the kids are busy. But I never in a million years dreamed I'd ever win a jackpot like this!"
In fact no one has ever won such a large jackpot at WinADay Casino. This is the biggest win in the no download casino's history, topping the previous record of $225,727 set last June on the Vegas Mania slot machine. Although it never reaches million dollar levels, the WinADay progressive jackpot pays out, on average, every six to eight weeks, usually for around $150,000.
Most of the games at WinADay are tied to the same progressive jackpot but Vera M. is particularly happy to have won her prize playing her absolute favourite game.
"I'm just fascinated with China and anything Chinese so the Chinatown slot machine became my instant favourite as soon as it came out last fall," she said. "It's usually the first game I start spinning but I also like Fruitful 7s, Vegas Mania and Leprechaun Luck."
Chinatown is an exotic tribute to the bustling Chinese communities that have developed in major cities around the world with noodles, lotus blossoms and Ming vases spinning on its five reels. It's a 21 pay line video slot with an expanding Wild symbol and chances to win up to 15 free spins. Players can bet from $0.02 to $4.00 per pay line and win up to 1000 times their bet.
Vera hasn't made up her mind about how she'll spend her massive winnings but a trip to China, or at least to the closest Chinatown, seems like a good idea.
WinADay Casino has 29 one-of-a-kind slot games and video poker games. Its progressive jackpot was reset to $50,000 following last week's win. At its sister site, Slotland Casino, the jackpot is currently over $150,000.
About WinADay Casino
A product of Slotland Entertainment S.A., WinADay Casino is a whimsical instant-play Flash casino offering unique free and real-money slot machines and card games that are available only at WinADay. All of the one-of-a-kind games are tied to one progressive jackpot. Generous deposit bonuses, game-of-the-month bonuses, daily random draws bonuses and frequent six-figure progressive jackpot wins have made this casino popular around the world.
Young Mother Wins Record-Breaking $255,462 Jackpot on 'Chinatown' Slots Game at WinADay Casino