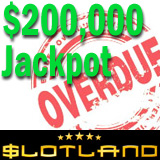 (London, UK) – Slotland's progressive jackpot reached a record level this week, topping $200,000. Since it's overdue for a big win, the popular video slots site is keeping its check book handy, ready to make a massive payout.
Slotland's last major jackpot win was in June. Since it's usually hit every six or eight weeks, staff and regular players feel like a big win can't be far off.
"Our jackpot isn't like those million dollar jackpots that never seem to have a winner," said Slotland manager Michael Hilary. "Our jackpot is hit so often that when it goes this long without a win the whole office is on the edge of their seat!"
"I quit pumping my money into slot machines with million dollar jackpots that no one ever wins," said Jessie M., a regular Slotland player. "When I play slots I like to think I might actually win!"
The Slotland jackpot is hit quite frequently but it's only gone over $200,000 once before. That was in March 2009 when a British dad won a record-breaking $200,011 playing the Heavy Metal slot machine. The most recent major win was in June when another lucky player won $128,000 on Witch's Brew.
There are currently 23 instant-play casino games to choose from at Slotland and none of them are available at any other online casino. All of the slots games are tied to the same progressive jackpot so it can increase very quickly.
To celebrate American Thanksgiving this weekend Slotland is giving all players a 45% deposit bonus on Thursday and Friday.
Slotland Casino has been offering one-of-a-kind no download slots and video poker slot games for more than thirteen years. Slotland games are also available as mobile slots that can be played on iPhone, iPad and Android powered devices.
At Slotland's sister site, Win A Day Casino, the jackpot was just won a few weeks ago for $184,000 but is already over $100,000.
Slotland Slots Jackpot Tops $200,000, Overdue for Win