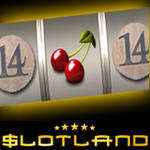 LONDON, ENGLAND, October 11, 2012 – One of the world's very first online slots sites, Slotland is proudly celebrating fourteen years of putting smiles on faces all around the world. A $14,000 14th Birthday Giveaway as well as freebies and percentage bonuses will make it a birthday party to remember.
Players that deposit at least $250 in October are automatically entered in the Birthday Player Contest that will award a total of $14,000 in bonuses.
"Wow. Fourteen years. It's amazing. From the very beginning our commitment was to creating original games – an alternative to all the cookie-cutter slots games out there," said Slotland manager Michael Hilary. "We also knew from the beginning that taking good care of our players had to be a top priority. I think we've stuck to our vision and been very successful on both counts. But the major thanks goes to our players who made Slotland what it is."
Slotland's customer service reps work right alongside the teams that create the casino's one-of-a-kind games.
"Players are always asking us for secrets about new games that are coming out," said Robert, a veteran CSR well-known to many players that have stuck with the popular casino for years. "Sometimes we give little hints on the Slotland Facebook page. I can tell you that I've seen lots of snow flakes on the designers' screens lately — but who knows what that will develop into!"
It's been a busy month leading up to the 14th birthday celebrations. The notoriously regular progressive jackpot had a big winner a couple of weeks ago – Abigail J. won $160,000 playing Pearls of Atlantis. And a fast-paced new slots game, Turbo GT, launched just last week.
Slotland now has twenty-seven real money online slots. Also mobile slots, Slotland's games play well on phones and tablets. Friendly customer service has distinguished this popular online slots site since it opened nearly 14 years ago.
About Slotland:
For fourteen years Slotland has offered innovative, one-of-a-kind online slots games and video poker games. Established in 1998, it's one of the most popular and trusted online casinos in the world and is renowned for its amazing customer service. Slotland's progressive jackpot is one of the most -won jackpots on the Internet, paying out over $100,000 frequently and regularly. A pioneer in mobile slots, Slotland's Flash technology plays as well on mobile devices as online. Slotland SA also operates WinADay Casino which features more absolutely unique slots games.
Slotland Celebrates 14th Birthday with $14,000 Casino Bonus Giveaway