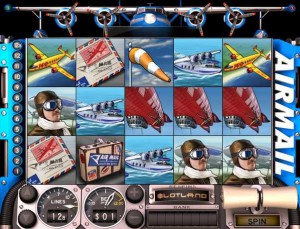 25 April 2013 (London, UK) – It's up, up and away at Slotland where they've just launched their new Airmail slots game that celebrates the golden age of aviation. Airmail is a five reel, twelve-plus-one payline slot game with a retro design that's a tribute to the early days of flying. It has a new "re-spin" feature that gives players the option of trying for a better combination of symbols by spinning one reel again.
To celebrate the launch of its 29th one-of-a-kind online slots game, until May 1st Slotland is giving a $23 freebie, offering match bonuses, and holding a contest.
The symbols on the reels include a vintage seaplane, an early airship, luggage labeled with exotic ports of call, air mail letters to foreign destinations and a swashbuckling pilot. They take players back to flying's heyday between WWI and WWII when daring pilots raced to be the first to cross the Atlantic or to fly around the world. Three Scatter symbols (an airplane engine) trigger the Re-spin Bonus Feature and up to 6 re-spins of a single reel.
"On some slots, like Treasure Box, you can hold a reel with high value symbols and keep them for the next spin," said Slotland manager Michael Hilary. "'Re-spin' is sort of like that except you re-spin just one reel and keep the rest. Both features are great for players that like to have some control and play strategically."
Like most of Slotland's slot games, Airmail is tied to the site-wide progressive jackpot that is currently over $105,000. Five 'Zeppelin' symbols on a payline with a $20 bet on the spin wins the jackpot. The minimum bet on Airmail is only $0.10 and the maximum, with max bets on all pay lines is $26.
Slotland now has twenty-nine one of a kind real money online slots. Any mobile device capable of handling web content including iPad, iPod Touch and PS3 is great for Slotland's games. For iPhone and Android phone users there's now a specially designed mobile site.
About Slotland:
For fourteen years Slotland has offered innovative, one-of-a-kind online slots games and video poker games. Established in 1998, it's one of the most popular and trusted online casinos in the world and is renowned for its amazing customer service. Slotland's progressive jackpot is one of the most – won jackpots on the internet, paying out over $100,000 frequently and regularly. A pioneer in mobile slots, Slotland's Flash technology plays as well on mobile devices as online. Slotland SA also operates WinADay Casino which features more absolutely unique slots games.
Slotland's New 'Airmail' Slot Game Puts Players in Control with 'Re-spin'