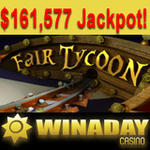 LONDON, ENGLAND, July 30, 2012 – WinADay Casino players knew that once the casino's site-wide progressive jackpot reached $150,000 it couldn't be long before it was hit. And it was. Kevin W. won $161,577 when he hit the jackpot earlier this month playing the Fair Tycoon slot game.
Kevin has been a player at WinADay since shortly after the instant play casino opened 4 years ago. He said he likes to play the Fair Tycoon slot machine game once in awhile because he loves the sim city type fair-building game that's built into it as a bonus game. His favourite games are actually Hold the Riches, Chinatown and Jackpot Jinni though. Although he wins smaller amounts quite frequently, this is obviously his biggest slots win ever.
"I used to play at a different online casino every month, it seemed," said the winner. "But I really like the games at WinADay, and they keep adding new ones. So why waste time looking around when I can spend that time playing!"
"Winning so much money was a complete surprise, of course. I still haven't decided what to do with it," said the stunned winner. "It'll be fun choosing gifts for my wife and kids and grandchildren. And I think we should all go on a great vacation together. Then I'll think about what to do with the rest – if there is any!"
The last big jackpot win at WinADay was in May when Jody K, a young mother on maternity leave, won $171K playing Enchanted Gems.
"We should name our jackpot 'Old Faithful'," laughed Michael Hilary, the Casino Manager at WinADay. "Of course it's completely random, but it still seems to be won quite regularly every six or eight weeks."
Slots, video poker, roulette and keno – WinADay Casino has 32 one-of-a-kind casino games not available at any other casino. The progressive jackpot was re-set to $50,000 after this win and is already over $65,000 again.
WinADay Casino Players Saw it Coming as Slot Games Jackpot Hit Again for $161,577