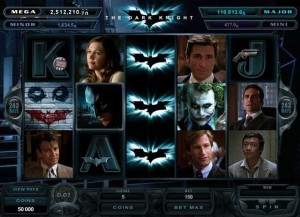 ISLE OF MAN, 28 November 2012 – QuickFire, powered by Microgaming, announces that one lucky player has won an impressive 5.4million Kroner through the Microgaming powered Progressive Jackpot Network.
A 35 year-old Norwegian player won the large sum of money on The Dark Knight™ online video slot via the Unibet site. The Dark Knight game, based on the legendary motion picture from Warner Bros. Pictures, premiered earlier this year and offers players the chance to win one of four Progressive Jackpots through a randomly triggered bonus wheel feature.
Unique in an industry that largely adopts staggered payments, Microgaming's Progressive Jackpot pays out in one single cash payment immediately, so the Unibet player has received all of the publicised pay-out of 5.4million Kroner.
The delighted Jackpot winner says: "I had no idea what was happening. At first, I thought I had won 5,000 Kroner, and I remember thinking 'wow, that will be a nice Christmas present for my girlfriend'. But the amount kept increasing and surely enough it displayed 5million Kroner. I couldn't believe it, I was in shock. I rang the Unibet customer service department so that I could get confirmation of the win!"
Ashley Sandyford-Sykes, Head of QuickFire, comments: "QuickFire offers operators access to the largest online Progressive Jackpot Network in the industry, providing the highest level of entertainment to players. It's fantastic to see yet another Progressive Jackpot payout on the QuickFire platform – we offer our congratulations to the winner."
To date, Microgaming's Progressive Jackpot Network has paid out a staggering €320million in total.
Progressive Jackpot Network Win On THE DARK KNIGHT™