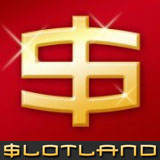 29 August 2012 (London, UK) – Slotland's progressive jackpot is quickly approaching $200,000, heading toward an all time high. Since it's won so frequently it rarely gets this big. Regular players commenting on Facebook page seem to think there will be a $200K payout any day now.
"I think it'll go over $200,000, hope I win it!" said Connie W. on the popular casino's Facebook page where players exchange stories and get special notice of bonuses and tournaments.
"I predict it'll go just over $200,000 this time. I'm saying $202,000. Let's see!" posted Linda B.
Over the years, Slotland's average jackpot win has been about $150,000. The progressive has only gotten as high as it is now three times in the last four years. Last November, Henry W. won $207,241 – Slotland's biggest jackpot ever – playing Treasure Box, one of the popular casino's very first real money slot games.
"Players that have been playing with us for many years know that our jackpot is usually won every six to eight weeks, almost like clockwork. The last big win was in April, though, so lots of players feel it's well overdue for a hit," said Slotland Manager Michael Hilary. "Of course it's totally random, but it's usually hit not long after it reaches $150,000. So anyway you look at it we just have a feeling we'll be announcing another jackpot winner very soon!"
All no download slots at Slotland are tied to one jackpot so it increases quite quickly again when it's reset to $50,000 after a win. With most games a max bet must be placed to qualify for the jackpot.
Slotland offers twenty-six one-of-a-kind online slots and video poker games. Several are also available as mobile slots. A new auto-racing themed game is expected to make its debut next month.
Slotland's Jackpot Nearing $200,000 and Could Reach Record Level