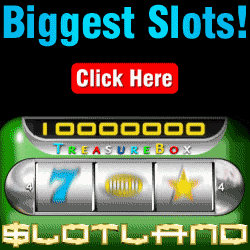 LONDON, England – (PRESS RELEASE) – Slotland has just paid more than $50000 in year-end casino bonuses to its most active players. Every year at this time the long-popular online slots site gives this special bonus to its top depositors.
"All of our players are eligible for this annual bonus," said Slotland manager Michael Hilary. "All you have to do is make regular deposits. At the end of the year we add them up and divvy up the $55K between our top depositors."
Thirty lucky players were selected to share the fantastic prize pool of $55500. A player known as "HEERSINK", who had the highest deposit total for 2011, received a staggering $15000. "CAR429" received a $10000 casino bonus and "GIDGET920" got $5000. A complete list of winners and their prizes is on the casino web site:
"I play slots online at Slotland because I love their games," said HEERSINK. "I've never seen anything like them anywhere else! But their generosity with bonuses is a big part of why I play there too. I've also found their customer service people to be very friendly and helpful, unlike some online casinos whose agents don't even know which casino you're talking about when you call them!"
Slotland, which celebrated its thirteenth birthday last fall, has 23 instant-play video slots and will launch another new game later this month. They're all unique and none of them can be found at any other online casino. Six, however, are also available at mobile casino. Most slots games are tied to one progressive jackpot which is back up to almost $100000 after paying out $207241 in December – Slotland's biggest jackpot ever.
Slotland pays $55500 in year-end bonuses