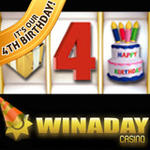 LONDON, ENGLAND, June 11, 2012 – WinADay Casino has grown and changed a lot since it launched four summers ago but one thing is the same: the casino games are completely unique and only available at WinADay Casino. During the birthday celebrations this month the innovative entertainment site will launch another new game and is offering outstanding birthday bonuses.
"It's funny looking at screenshots of the original 3D casino that we launched with in 2008," said WinADay manager Michael Hilary. "We had a three-dimensional lobby with just two slot games in it and animated casino staff moving about between them."
"We focused on developing and adding new games. Over the last four years we've created more than 30 new games," said Hilary, clearly proud of the casino's amazing development. "We got to a point awhile back where the 3D lobby idea just wasn't working anymore. There was no room to squeeze in any more games so we had to re-model!"
Today, Win A Day Casino has 31 unique instant play casino games, most of them connected to one frequently hit progressive jackpot which is currently approaching $100,000.
Highlights of WinADay Casino's first four years:
January 2008 – WinADay 3D Casino launches
June 2008 – First real money wagers taken
January 2009 – Monica68 wins first major jackpot, $148,724 playing Wheeler Dealer
May 2009 – First YouTube story reports 3rd major jackpot winner ($100,224 on Wheeler Dealer)
Summer 2009 – Deuces Wild is first multi-hand video poker game
December 2009 – Record-breaking jackpot win: $198K on Heavenly Reels
March 2010 – Lobby re-designed to accommodate so many more games
April 2010 – Widower wins record-breaking $223,420 jackpot (not broken for 2 years)
April 2010 – Roulette 5 is first non-slots, non-video poker game
September 2010 – New VIP program introduced
Fall 2010 – Jackpot Jinni and Pyramid Plunder begin era of elaborate graphics and bonus games
May 2011 – Facebook contest chooses Grand Liberty as name for new "America-themed" game
September 2011 – First slots tournaments held
March 2012 – $255,462 jackpot win breaks two year record
March 2012 – Players on Facebook choose "pet" theme for next game
May 2012 – $8000 slots tournament on new Joker's Tricks is biggest slots tournament to date
Birthday celebrations began earlier this month with free chips and continue through the month with 50% Happy Hours this week and Father's Day casino bonuses this weekend. A brand new game will be announced next week.
One-of-a-Kind WinADay Casino Celebrates 4th Birthday with Casino Bonuses and New Casino Game