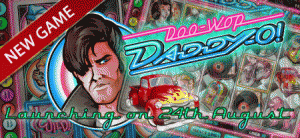 Rival Gaming is proud to announce the future release of Doo-Wop Daddy-O, an exclusive 20-line, 5 reel slot.
Hey you hipsters, we're letting the cat out of the bag on our new, out of this world slot, Doo-Wop Daddy-O! This slot is based on American 1950's culture and has 2 cool bonus rounds. It's loaded with all kinds of iconic 50's images like jukeboxes, records, ice cream floats, roller skates, pink poodles, motorcycles, and hot rods. There's also a couple of cute birds, a greaser, and a soda jerk.
You'll be slinging out ice cream and sodas at Pop's Soda Fountain Bonus Round. You have to prepare specific drinks for customers at their request.
The Drag Race Bonus round will have you putting your pedal to the metal and burning rubber. Put your chrome plated ride to the test by shifting into the next gear at the right time to zoom past your opponent.
Game name:
Doo-Wop Daddy-O!
Launch date:
24/08/10
Game type:
Video slot
Number of reels:
5 Reels
Number of lines:
20 Lines
Coins per line:
10 Coins per line
Features:
Scatter symbol with normal pay

Wild symbol

2 Bonus Rounds:

– Soda Fountain with normal pay

– Drag Race skill-based bonus round
New Game Coming Soon! DoopWopDaddyO!