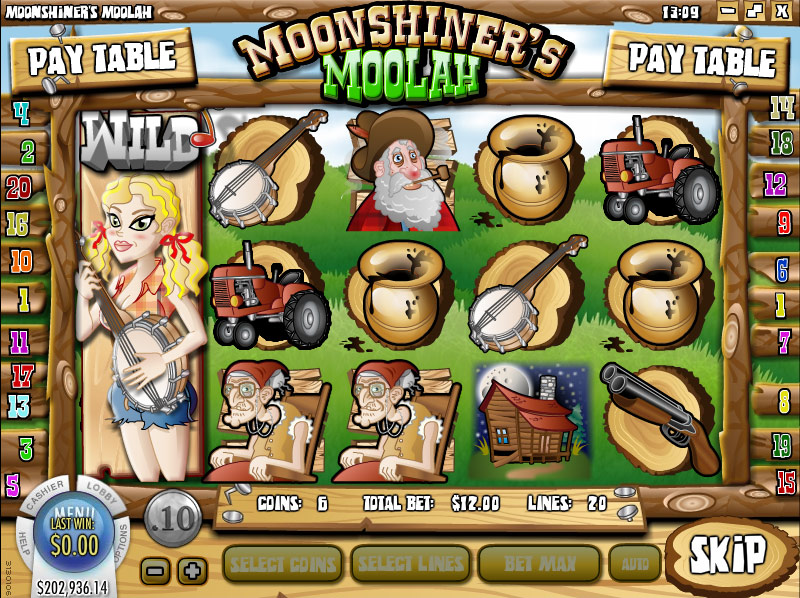 Moonshiner's Moolah is a 20-line, 5-reel new slot with two bonus rounds and a maximum jackpot of 13,500 (Maximum bonus round win)! This new video slot game will transport you straight to the USA but don't expect tall buildings and fast cars. This game is based on a countryside theme where shooting chickens will earn you extra points!
Over yonder in the Appalachian mountains, travel into the wilderness deep enough and you'll find a family filled with colorful characters. This slot is inspired by American Hillbillies, Grandpa "Pa" and Granny, who brew their own powerful alcohol affectionately called Moonshine. Around their yard you'll see the young and pretty Betty-Lou, their old Bloodhound dog, and a whole bunch of chickens. You'll also spot a banjo, an old pick-up truck, a tractor, a shotgun, a spittoon, and of course…a bottle of moonshine.
Sometimes Pa gets awful thirsty on a hot day making his Moonshine. Hit 3 "Pa" Icons and you'll help him pick the perfect jug of Moonshine off of the shelf in the "Pick a Bottle" Mini Bonus Round. If you hit 3 or more chickens, you'll be sent to the "Chicken Shoot" Bonus Round. The chickens have escaped the coop, but that's alright because the family needs some food for dinner, and you just happen to be holding a shotgun.
Hit 3 or more Chicken icons to to activate the "Chicken shooting Bonus Round"! Align your target with chickens that come across the screen and click your mouse to fire. Make sure to focus to earn as many points as possible. You have 6 shots in total. no animals were harmed in the making of this game! During the Pick a Bottle Bonus game, you will be asked to choose a jug on a shelf. Each jug will earn you extra points!
Moonshiner's Moolah :: You can try this NEW Slot game right now at the following casinos: 21Grand Casino, Casino FIZ, RockBet Casino, Tradition Casino and SupremePlay Casino
Moonshiner's Moolah :: NEW Rival Gaming video slot