But be warned, you are entering a contaminated area here.
Some filthy company has been dumping mass quantities of nuclear waste into the ocean with some shocking results. The aftermath of discarding these toxic barrels has created an exotic array of mutated abnormalities, freaks of nature! If you can swim past the abandoned nuclear bombs you'll see the extraordinarily strange and awful species of glowing fish for yourself.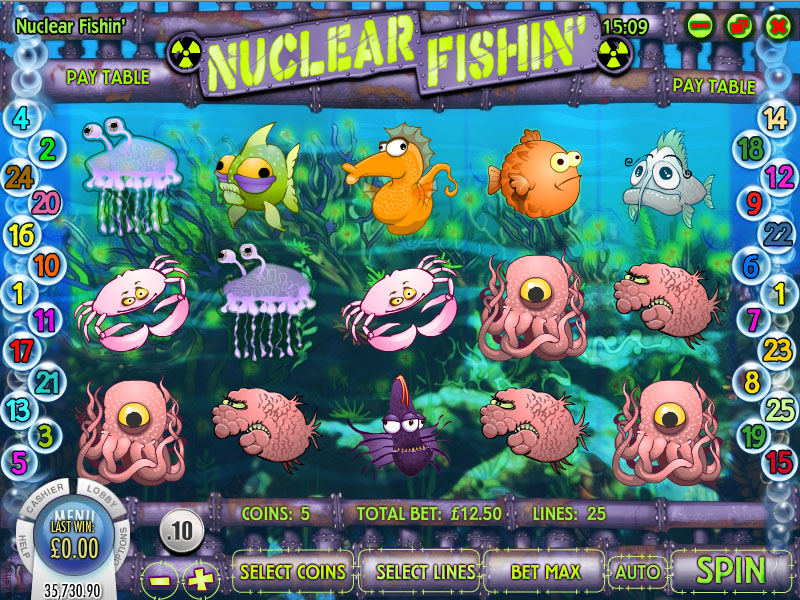 Nuclear Fishing is a 25-line, 5-reel new video slot with a maximum jackpot of 37,500! This new video slot game will take to the bottom of the ocean but there won't be time to relax as you have a very serious mission. It's time to clean up the toxic waste from the bottom of the sea.
In the bonus round, players will need to use a specially designed vacuum to suck up the toxic waste. The aim to drag the barrels of contaminated nuclear waste to the vacuum using your mouse and to earn as many points as possible to win the jackpot. Players will need to act fast as most of the creatures at the bottom of the ocean are already starting to glow from the contamination!
Game Details
Software: Rival Gaming
Game type: Video slot
Number of reels: 5 Reels
Number of lines: 25 Lines
Coins per line: 10 Coins per line
Features: 25 lines, Bonus Round, free spins, expanding wilds.
Nuclear Fishing :: You can try this NEW Slot game right now at the following casinos: 21Grand Casino, Casino FIZ, RockBet Casino, Superior Casino and SupremePlay Casino
Rival Gaming is launching a brand game based on a nautical theme – Nuclear Fishing