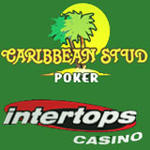 ST. JOHNS, ANTIGUA, September 07, 2012 – A recent jackpot winner at Intertops Casino will invest much of his windfall in his business – but not before indulging in a much needed holiday with his wife. Bruce K., a Californian business owner currently working in Dubai, won $84,336 playing Caribbean Stud Poker.
Running your own business can sometimes seem like all work and no play but fortunately Bruce took a break from his work long enough to have some fun playing Caribbean Stud at Intertops Casino. He got lucky and hit the game's jackpot.
Like many people that travel to Dubai for work, Bruce works long hours. On his own while his wife stays home to manage the business, he likes to wind down in the evening by playing casino games.
"I was very surprised to have won the jackpot especially after coming close several times," said Bruce. "My wife and I are ecstatic! We both always play at Intertops as we find the company the very best. With the winnings we plan to take a trip and pay off some bills that we have. We'll put the remaining money into our business."
Caribbean Stud Poker – just one of many card games available at Intertops – is a casino table game similar to Five Card Stud except that players play against the house, not other players. Other popular poker variants include Pai Gow Poker, Tri Card Poker and Caribbean Hold'em as well a many types of video poker where players can play one, three, ten, 52 or even 100 hands at a time.
One of the very first online poker, casino and sportsbook sites on the Internet, Intertops is trusted by players around the world. For more than 15 years Intertops has taken pride in its friendly customer service and hassle-free deposits and withdrawals.
Intertops Casino $85K Caribbean Stud Jackpot Winner