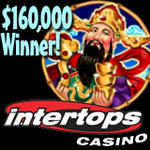 ST. JOHNS, ANTIGUA, September 20, 2012 – An Intertops Casino winner had a remarkable run of good luck when he recently won over $160,000 in a two-day period. Adam B. from Texas struck it rich on the Chinese-themed slots game Year of Fortune.
"Our staff was just amazed by Adam's good luck. This wasn't just one lucky spin," said Intertops' manager. "Over two days he had nearly 300 payouts of over $1000 each – some of them well above that mark. Year of Fortune paid out literally millions to him and other players in just two days!"
"After a few wins I could tell that luck was on my side," said the winner. "So I increased my bets and just kept playing."
Year of Fortune is a 5 reel, 25 pay line slot with a Chinese theme. It has a progressive jackpot, triggered by five God of Wealth symbols, which is currently just over $25,000.
"I guess we all hope someday we'll win big like this, but wow, I sure never thought I'd get this lucky!" Adam told an Intertops customer service representative. "I've been playing with Intertops for five years and have won my share of sports bets but winning so much in their casino was something else altogether!"
Intertops was one of the very first online casino, poker and sportsbook sites on the internet. Known for friendly customer service and hassle-free deposits and withdrawals, Intertops has been trusted by players around the world for more than 15 years.
ABOUT INTERTOPS:
Intertops was founded in 1983 in London with a UK Bookmakers License and relocated to Austria in 1992. They accepted the world's first online bet in 1996. In 1997, the online business moved to Antigua while the traditional sports betting business remained in Austria. 1998 saw the launch of one of the first Microgaming online casinos. In 2001, the innovative company developed the first mobile betting application, enabling customers to bet with mobile phones anywhere anytime. By 2003 Intertops began online poker operations, progressing to online skill-based gaming in under a year. Intertops Casino now provides more than 300 state-of-the-art casino games from Real Time Gaming (RTG). It has some of the biggest progressive jackpots available anywhere online including several that are currently well over $1,000,000.
Intertops Casino Player Wins Over $160K in Two Days Playing 'Year of Fortune' Slots Game Which Paid Out Millions Over That Period