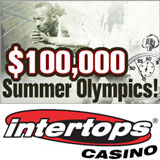 ST. JOHNS, ANTIGUA, July 05, 2012 – This month Intertops Casino salutes Olympic champions with a $100,000 casino bonus giveaway, including cash prizes. The new MultiPlayer French Roulette game launching during the festivities makes online casino games more like "being there" than ever.
The summer bonus program is one of Intertops' biggest ever and, as usual, they've organized it so everyone has a chance to win.
"We categorize our players according to how much they play," said Intertops' casino manager. "This way everyone has a chance to win a bonus no matter how much they play. Every month we name the categories according to a theme. This month the whole world has its eyes on the games in London so we've named our categories after great Olympic achievements."
The casino bonus categories this month pay tribute to thrills like Jess Owens' 4 Gold medals in 1936, Nadia Comaneci's perfect 10 in 1976, the US soccer Gold in 1996 and Michael Phelps' 8 Gold medals in 2008. Prize winners will be drawn in each category on Monday July 30th. Three players that reach the top level will win $1000 cash each; three players at each other level will also win prizes. The promotion continues in August and a final draw will be held September 3rd when another three players on each level will win more prizes. Players can check their current points and ranking any time on the scoreboard.
Twice a week throughout the summer, hundreds more players will get emails letting them know they've been given a free bonus up to $250. (Players must have played and deposited in the previous days to qualify.) Between now and September 3rd Intertops Casino will give away a total of $100,000 in casino bonuses and cash prizes.
New MultiPlayer French Roulette
This month Intertops takes online casino games to a whole new level with the launch of its new feature-rich MultiPlayer French Roulette from Realtime Gaming (RTG). "MultiPlayer" means punters can play at the same table and watch others place their bets. They can learn from lucky players, challenge the biggest winners, or just chat and enjoy the game with fellow players – just like in a Las Vegas casino.
MultiPlayer French Roulette is a deluxe, full-featured game with La Partage rule. There are Open, Reserved and Private tables. Favorite bets can be saved and Voisins, Orphelins, Tiers, Red and Black Splits are available. The new game "Roulette MultiPlayer" can be found in the Specialty Games tab at Intertops Casino.
ABOUT INTERTOPS:
Intertops was founded in 1983 in London with a UK Bookmakers License and relocated to Austria in 1992. They accepted the world's first online bet in 1996. In 1997, the online business moved to Antigua while the traditional sports betting business remained in Austria. 1998 saw the launch of one of the first Microgaming online casinos. In 2001, the innovative company developed the first mobile betting application, enabling customers to bet with mobile phones anywhere anytime. By 2003 Intertops began online poker operations, progressing to online skill-based gaming in under a year. Intertops Casino now provides more than 300 state-of-the-art casino games from Real Time Gaming (RTG). It has some of the biggest progressive jackpots available anywhere online including several that are currently well over $1,000,000.
Intertops Casino $100K Olympics Casino Bonuses