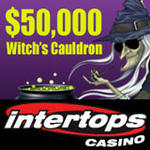 ST. JOHNS, ANTIGUA, October 17, 2012 – Someone must have cast a Halloween spell over the folks at Intertops Casino because you'd have to be bewitched to give away $50,000. On November 5th Intertops' Witch's Cauldron Grand Prize Draw will award bonuses and cash prizes up to $1000 and between now and then hundreds of players will discover a little extra cash in their accounts.
The $50,000 Halloween casino bonus program is organized so both frequent and occasional players have a chance to win. Intertops groups players according to how much they play and awards bonuses in all categories. For the Halloween season, the categories are named after things you'd need to concoct a lucky spell: Eye of Newt, Scale of Dragon, Wool of Bat, a Secret incantation and of course a Witch's Cauldron.
Prize winners will be drawn in each category on November 5th. Three players that reach the top "Witch's Cauldron" level will win $1000 cash each; three players at each other level will also win prizes. Players can check their current points and ranking any time on the $50K Witch's Cauldron scoreboard where complete contest details can also be found.
Twice a week, hundreds more players will be notified by email that they've received a free bonus up to $250. Intertops will give away a total of $50,000 between now and November 5th.
"I'm guessing over Halloween our spookiest games will be busiest," said Intertops' casino manager. "Games like Count Spectacular, Goblin's Treasure, Warlock's Spell… But the new Three Stooges slot has been super popular since we got it and the million dollar jackpot games like Aztec's Millions are always really popular too."
Count Spectacular is a 25 pay line vampire-themed slot with free games and re-spin features. Goblin's Treasure is a fantasy slot with free games and several jackpots and Warlock's Spell, a 20 line magic-themed slots game, has a Potion Prize Pick feature.
Intertops is one of the world's most trusted online casino, poker and sportsbook sites. For more than 15 years it has taken pride in its friendly customer service and hassle-free deposits and withdrawals.
ABOUT INTERTOPS:
Intertops was founded in 1983 in London with a UK Bookmakers License and relocated to Austria in 1992. They accepted the world's first online bet in 1996. In 1997, the online business moved to Antigua while the traditional sports betting business remained in Austria. 1998 saw the launch of one of the first Microgaming online casinos. In 2001, the innovative company developed the first mobile betting application, enabling customers to bet with mobile phones anywhere anytime. By 2003 Intertops began online poker operations, progressing to online skill-based gaming in under a year. Intertops Casino now provides more than 300 state-of-the-art casino games from Real Time Gaming (RTG). It has some of the biggest progressive jackpots available anywhere online including several that are currently well over $1,000,000.
Intertops $50,000 Witch's Cauldron Casino Bonuses