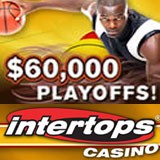 June 6, 2012 (St. Johns, Antigua) – It's NBA playoff season and this month Intertops Casino salutes basketball with its $60K Playoffs casino bonuses and $1000 cash prizes. All month players will earn points just by playing casino games. Draws for six levels of players will award prizes totaling $60,000 through June.
With everyone's eyes on NBA basketball this month, the six player-levels are named after basketball terms like "Slam Dunk" and "Full-court Alley-Oop."
"Remember, Intertops started as a sportsbook way back when – we took the very first online sports bet actually. So there are a lot of sports-crazy people in our company that come up with these crazy categories!" laughed Intertops' casino manager.
"This is a good way to do it," said one casual player who only plays once in awhile. "At some casinos you have to be a real high roller to ever be eligible for bonuses. At Intertops even us guys that just play once in awhile have a chance!"
"I play a lot of Blackjack so a $10 bonus isn't going to impress me much," said a more frequent player who is regularly in the top category for bonus draws. "Now $1000, that's serious cash."
The final Playoffs draw will be held July 3rd. Players can check their current points and ranking any time on the scoreboard.
Many more players will receive Playoffs casino bonuses throughout the month as hundreds (advised by email) will receive additional free bonuses up to $250.
Intertops Casino offers more than 300 casino games including million dollar slots jackpots like Jackpot Pinatas and Aztec's Millions. Intertops has been one of the world's favorite online casinos, sportsbooks and poker rooms longer than any other online gambling company. Its 24-7 toll free phone and live chat player support shows the company's ongoing commitment to customer service.
ABOUT INTERTOPS:
Intertops was founded in 1983 in London with a UK Bookmakers License and relocated to Austria in 1992. They accepted the world's first online bet in 1996. In 1997, the online business moved to Antigua while the traditional sports betting business remained in Austria. 1998 saw the launch of one of the first Microgaming online casinos. In 2001, the innovative company developed the first mobile betting application, enabling customers to bet with mobile phones anywhere anytime. By 2003 Intertops began online poker operations, progressing to online skill-based gaming in under a year. Intertops Casino now provides more than 300 state-of-the-art casino games from Real Time Gaming (RTG). It has some of the biggest progressive jackpots available anywhere online including several that are currently well over $1,000,000.
Hoops Hype Inspires Intertops Casino's $60K June Casino Bonuses Designed for Frequent and Occasional Players Alike