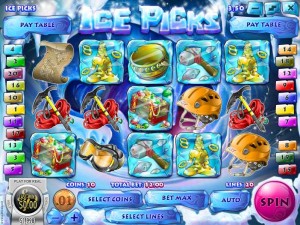 ICE PICK is a 20-line, 5-reel new video slot with a maximum jackpot of 67,500! This new video slot game will take you into a frozen cavern and you will need to break the ice and climb to the top to uncover hidden treasures!
This new game features a bonus round, free spins and a wild symbol. Icons include a helmet, climbing boots, goggles and a pickaxe. During the bonus round, you will need to use the pickaxe to break the ice and release the jackpot!
ICE PICKS :: You can try this NEW Slot game right now at the following casinos: SupremePlay Casino and 21Grand Casino.
ICE PICKS :: NEW Rival Gaming video slot