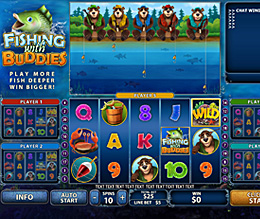 Fishing With Buddies Slots is the new innovative multiplayer slot game from Windows Casino which players can join five at a time for an exhilarating gaming experience. Fishing With Buddies Slots possesses 20 reels which remain always activated and offers fine game features such as wilds, scatters, a Fish a Crab on-reels feature and a 2 stage Fishing With Buddies Bonus game which is triggered randomly.
In Fishing With Buddies Slots, players first start by selecting a seat through an avatar from the five bears on display. The game screen itself is different from that of standard online slot machines comprising of a bonus area in the upper middle section of the game area with the player's slots reels per se right underneath, the 4 reels corresponding to the other players on each side and a chat windows in the top right hand corner.
The wild symbol in Fishing With Buddies Slots is represented by Seaweed, substituting for any other symbol except the scatter to make up winning combinations. The Scatter is the Fishing With Buddies logo and pays out as from three symbols regardless of their positions on the reels.
Fishing With Buddies Slots offers a bonus feature known as the Fish a Crab Bonus which is triggered by the crab symbol when the latter appears on the top row right underneath a player's bear. During the bonus game, the player casts its fishing line and pulls up the crab from the boot where it is hiding and receives as a result a cash prize amounting to 5 times his total bet.
The bonus game in Fishing With Buddies Slots is triggered randomly and players have two chances of getting great prizes. During the first round up to three goldfish swim around and players need to succeed to catch one of them in order to get cash prizes and entry to the second stage. During the second round of the bonus, qualified players release the fish they caught back into the water in order to receive additional cash prizes.
Fishing With Buddies Slots will take players to a whole new level in terms of online slots. Players will have a fun time spinning away while chatting with their friends and earn great prizes to boot.
Windows Casino :: "Fishing With Buddies" Multi Player Slot Game