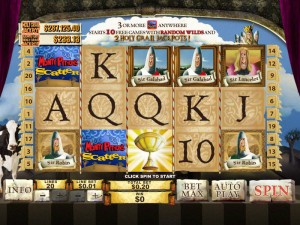 Monty Python's Spamalot Slots is a unique new slot game available on Windows Casino, it is a game that offers players something completely different in terms of online slot play as one would expect from a Monty Python slot game.
Monty Python's Spamalot slot is a 20 line progressive slot machine with animations from Terry Gilliam, music from the show by Grammy-award winning composer John Du Prez, and voices by the show's original actors!
The Monty Python's Spamalot game contains four acts (bonus rounds) that follow each other.
When the Bonus symbol appears anywhere on reels 1 + 5 the player enters the first act, named Storm The Castle, where the player has the choice of 1 of 6 strategic spots when storming the French Castle while avoiding getting hit by a cow.
The second act is called None Shall Pass and the players can win Cash and Multiply their winnings by striking the Knight four times.
The third act is called Knights Who Say Ni and the player can win cash if he collects Shrubberies, or he can play for more prizes in up to 3 rounds.
The final act and bonus round is called Killer Rabbit Bonus and the player tries to open the way for Knights by throwing a grenade at rocks to scare the rabbit away. The more knights pass, the more cash the players win.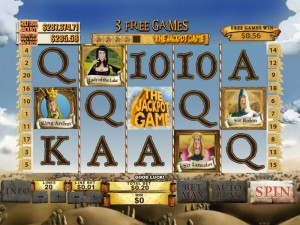 But it's not just the bonus rounds that can bring cash to the players' table. Three or more Scatter Symbols win 10 free spins and a chance to play the Holy Grail Jackpot Game if they collect five jackpot symbols. Inside the Jackpot game the players win cash prizes and by climbing up 6 levels they got a chance at the Holy Grail Jackpot or the Slightly Less Holy Grail Jackpot.
This is definitely one of the most entertaining slot machines out there so if you are up for some serious fun join the casino and play today.
Windows Casino :: Play Monty Python's Spamalot
Windows Casino :: Monty Python's Spamalot Slots