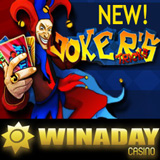 18 May 2012 (London, UK) – WinADay Casino has just launched another one of its eye-popping, full-screen, one-of-a-kind casino games. This one's called Joker's Tricks. It's a 5 reel slots game with 20 paylines and a Free Spins bonus feature activated by the player.
A Joker's Tricks slots tournament with a prize pool of over $8000 continues until May 27th. Every day until then, the player with the highest Joker's Tricks score that day will win $300. The second place player will receive $150, third prize is $100. There is no registration fee and players are automatically entered when they play the new game.
All of WinADay's one-of-a-kind casino games are beautiful, full screen games with luscious graphics and exciting sound effects but this one is impressing even regular WinADay players that are accustomed to having the biggest, most beautiful slot games on the internet.
"We get a bit spoiled at WinADay I think," said one player trying the new game. "I went back to one of my old casinos the other day. Now that I'm used to WinADay their games just seemed really dull and boring. They all just pop up in little windows, not full screen like WinADay. And they all look basically the same, just different symbols on the reels. All of WinADay's games are big and beautiful – this new one is just amazing!"
Joker's Tricks has lots of built-in bonuses and free spins that make sure the fun lasts a nice long time. Three or more Joker symbols activate a Trick: Double Win, Double Wild or Expanding Wild. Hitting three or more Free Spin symbols adds one free spin to the Free Spin Counter. Free Spins can be activated any time and are played using the active Trick to increase the win.
WinADay Casino now has total of 31 casino games: 21 slot machine games, six video poker games, two Keno games, and two versions of Roulette. Most slots games are connected to one progressive jackpot. The next new games in development are a pet themed slot and a gladiator-themed instant casino game.
About WinADay Casino:
A product of Slotland Entertainment S.A., WinADay Casino is a whimsical instant-play Flash casino offering unique free and real-money slot machines and card games that are available only at WinADay. All of the one-of-a-kind games are tied to one progressive jackpot. Generous deposit bonuses, game-of-the-month bonuses, daily random draws bonuses and frequent six-figure progressive jackpot wins have made this casino popular around the world.
WinADay Casino's New Joker's Tricks is Another Big-screen Slot Game Featuring Free Spins – Free Slots Tournament Continues