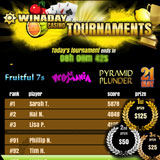 26 September 2011 (London, UK) – They've only just begun and WinADay Casino's new online slot tournaments have already put fistfuls of free cash into players' accounts. There's no tournament buy-in – players just play the designated games of the day and compete against each other for bonus cash prizes.
Recent cash prize winners, current player rankings and games designated for upcoming daily tournaments are all posted on the new Tournaments tab on the WinADayCasino.com home page where all of WinADay's 26 one-of-a-kind no download online slot machines and video poker games are also just a click away.
"Tournaments give players a chance to compete against each other – and win extra cash," said WinADay manager Michael Hilary. "Having everyone playing the same games levels the playing field a bit, maybe gets some of our regular players going back to games they haven't played for awhile."
Today's slots tournament games are the new America-themed Grand Liberty, Heavenly Reels, one of the distinctive site's first no download casino games, and Jackpot Jinni. Tomorrow players will compete against other players on Tropical Treat, Lucky Go Round, Busted and Reel De Luxe. There's a different set of designated games every day, all listed well in advance on the new Tournaments tab.
The winner of each tournament is the player with the highest score at the end of the daily tournament. All players' scores are constantly updated during the tournament and are displayed on the leaderboard. Players earn one point for every winning payline (or hand, in video poker).
"I actually didn't even realize I was in a tournament at first. I was just playing my favorite game, Fruitful 7s, like usual," said a player known as Sarah J who placed second in the opening day tournament. "But then I noticed that I was automatically entered for free just by playing that particular game, and there was my name on the player ranking scoreboard. Well, when I saw I was in 85th place I thought I just better get back to my game and win some more hands! It sure was fun watching my name going up and down the scoreboard a bit. Especially when I ended up winning the $50 second prize!
"Rachel S. and Phillip N. better watch out next time though!" laughed the slots tournament player. "The gauntlet is down!"
WinADay is an instant play casino with 26 online casino games including slots, video poker, Keno and Roulette. All slots games are tied to one progressive jackpot which is currently over $150,000.
New WinADay Online Slot Tournaments Already Paying Out Daily Cash Prizes