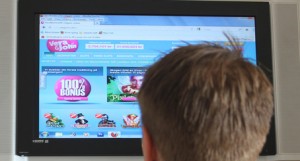 Was watching TV – won €83,241 on Fruit Shop
Lars Erik spotted a TV commercial for Vera & John Casino. Some hours later he had €83,241 on his players account. – I honestly thought it was a joke, he said
A quite ordinary, relaxing time in front of the TV became that day more than €80,000 who found its way to Lars Eriks account.
Thought it was a joke
– I was relaxing in the sofa when a commercial for Vera & John Casino came up, says Lars Erik.
He had his laptop next to him at the coffee table. He decided to register at Vera&John and a minute later he had an account, made a deposit of €150 and started playing the popular slot Jackpot 6000.
– On my 3rd spin I won €756. I thought it was a joke, but it was just the beginning.
Suddenly it all went crazy
Lars Erik didn't know what was about to come. After a couple of hours he had multiplied the €756 more than a hundred times.
– I tried the game Fruit Shop and raised the bets, then suddenly lightning stroke. The screen was showing I had won €64,400.
Lars Erik could hardly believe his own eyes, anyway he continued playing. When he finally logged out after less than 4 hours, he had the incredibly amount of €83,241 on the account.
– Who would think a normal day on the couch would make me more than €80,000 richer? And from the laptop! It's crazy and only happens to others, says Lars Erik.
Vera&John Casino´s Big Winner on Fruit Shop