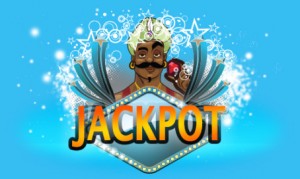 (Press Release, October 24, 2012) – WOW! It's been a life changing weekend for one of our lucky players, to say the least! Håvard from Bergen, Norway created an account with Vera&John only 2 weeks ago after seeing a funny VJ commercial on tv.
He used to play a bit of online poker but thought there was no point in playing anymore since he wasn't winning much. After taking an interest in Vera&John, Håvard decided to try his luck on one of our progressive jackpot slots, Arabian Nights! This was the best decision he's ever made…
October 21st 2012, after only 29 rounds he struck gold and won the €656,875.83 jackpot! Congratulations Håvard, we couldn't be happier for you!
When we asked how he was feeling, Håvard replied by saying he couldn't believe it was happening to him. He asked his brothers to count the digits on the screen to make sure he was reading it properly! Håvard plans to first and foremost finish up his house that he's been working on for years. He plans to spend his money wisely, right after a sunny trip to the south of Europe. A 'little' extra spending money should come in handy!
Håvard is a driving instructor, so maybe one day he can show off by rolling up in a brand new car (just as long as the students don't get their hands on it!).
Vera&John Casino wish Håvard all the best!
You can be our next jackpot winner, play Arabian Nights right here at Vera&John Casino!
Vera&John offers a wide range of first-class online gambling products and games in a safe and user-friendly gaming environment. At the Vera&John Casino you will find everything from table games such as blackjack and roulette, slot machines, video slots and other casino games – in essence, everything that you would like to play at an internet casino is here for you to enjoy. We personally think Vera&John is the best thing since sliced bread.
Vera&John player wins the €656,875.83 Arabian Nights Jackpot