Between 25 June and 1 July, several Casino La Vida gamers struck it lucky with sensational wins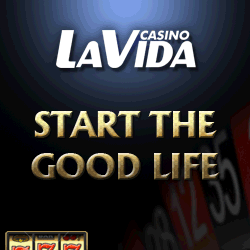 Internet Casino extraordinaire Casino La Vida hands out hundreds of thousands to its players every week, and last week was no exception.
"We are delighted for our winners," commented Casino La Vida promotions manager Victoria Lamonte. "At Casino La Vida we love it when our players are rewarded for their loyalty to our casino with fabulous prizes. We like to ensure that everyone who plays with us feels like a winner."
Right at the top of the heap was C.S., who won a whopping €66,529.89 on Reel Gems, one of Casino La Vida's Feature Slots. The enthusiastic Casino La Vida devotee from Portugal, who has been playing since April 2011, was overjoyed at her awesome win. "I can't believe it! I've been playing Reel Gems regularly, and am going to be playing so much more now," she said.
Meanwhile, B.R. won big with Deck the Halls. The $57,235.93 windfall put the Australian player in a very festive mood, as a relatively new gamer who joined the Casino La Vida team just a couple of months ago. "This was a total surprise but a very welcome one – thanks to Casino La Vida!" she said.
Beginner's luck triumphed in the case of Swedish CLV gamer M.J., who experienced victory on Asgard with Thunderstruck II, in which he won SEK 25,403.77 after having become a Casino La Vida player less than a month before.
Meanwhile, L.B. scored a lucky $22,671.00 on Break Da Bank Again, and M.L. played the Feature Slot Porky Payout, and won SEK 20,611.25.
Both J.B. and G.O. were swept up in the star-crossed love story Immortal Romance and won a swoon-worthy $20,711.70 and SEK 18, 661.10 each respectively.
As a proud Microgaming casino, Casino La Vida gives out hundreds of thousands in winnings each week to players around the world. These come from a variety of different online casino games, from feature slots, table games and bonus slots to Vegas favourites like Roulette, Blackjack and video poker games. With more than 500 exciting games to choose from, even the most particular player can find their perfect game at the casino, helping absolutely everyone to live the good life thanks to Casino La Vida.
See all the latest winners on the Casino La Vida website.
Thousands won in bumper Casino La Vida week