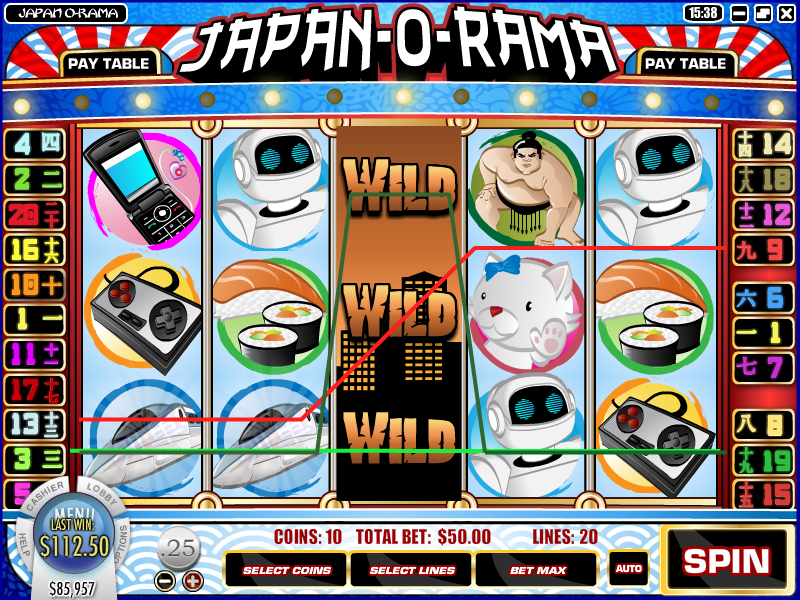 | | |
| --- | --- |
| Game name: | Japan-O-Rama |
| Launch date: | 21/12/10 |
Rival Gaming is proud to announce the launch of Japan-O-Rama, an exclusive 20-line, 5 reel i-Slot.
Konnichiwa! Inspired by the popular culture of the land of the rising sun, Japan-O-Rama captures the vibrant offbeat nature of the Japanese. The flashy slot features ancient cultural icons such as Katana swords, Sumo Wrestlers, Geisha and Ninjas; As well as Modern day representations like Anime, Video games, Cell Phones, the Bullet Train, and a giant lizard that likes to stomp down Tokyo.
The bonus rounds let you try the infamous game of Pachinko. The Pachinko machine is a classic form of gambling in Japan, not unlike slot machines in the West. Fire tiny balls to the top of the machine and watch them trickle down hundreds of pins into different scoring zones. Japan-O-Rama features 3 of these machines, each with different Japanese backgrounds.
Technical Description Document
NOTE: Dollar sign ($) is used in this document for illustration purposes only. Actual game is available in all supported currencies.
FEATURE
INFORMATION
Available coin sizes
0.01, 0.05, 0.10, 0.25 (configurable)
Coins per line
From 1 to 10 coins wagered per line
Number of lines
From 1 to 20 lines
Default bet size
Total default bet: $2.00
Maximum jackpot (per line)
0.25 * 1000 * 10 coins = $2,500.00 (Normal play)

0.25 * 1000 * 10 coins x 3 = $7,500.00 (Free spins)

Special features
3 Pachinko bonus rounds featuring different Japanese themes.

Expanding wilds on reels 1, 2, and 3.

Unique animations for each icon that lands in a row of 4 or 5.
Rival Gaming Software :: NEW i-Slot Game :: Japan-O-Rama