Rival Gaming's new 20-line, 5 reel slot, Zombiezee Money is now LIVE!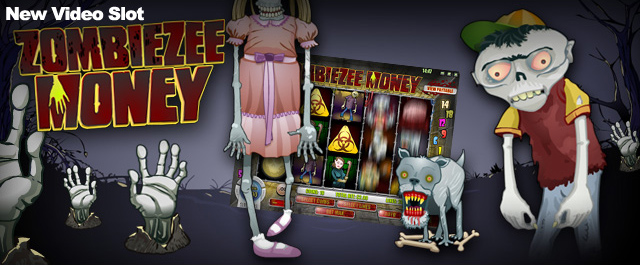 The smell of blood and brains is in the air, the living dead must be at it again. A zombie virus has infected this small town and everyone is in grave danger! It's up to you and a handful of resourceful survivors to make it out alive.
This dreadfully funny slot has a wide range of kooky and spooky characters. The leftover living folks have gathered their weapons to defend against the heaps of flesh eaters. There is a man with a flame thrower, and woman with a pipe, and another man with a chainsaw having a bloody good time! On the undead side they've got a few zombies guys, a nurse, a dog, a little zombie girl still wearing pigtails with red ribbons, and a zombie baby.
Two horrifying bonus rounds await you on your quest for survival. 3 or more brain icons trigger the Boneyard Bonus. Playing Whack-A-Zombie is a great way to pass the time, so you must choose a weapon to smash any hiding zombie that dares to show their ugly face.
The other bonus round is triggered when you hit 3 or more vault door icons. It will send you six feet underground, in a good way! You will take some refuge in an underground storage bunker to gather a few supplies to help take on the hoards of brain dead ghouls.
Zombiezee Money :: You can try this NEW Slot game right now at the following casinos: Slots Capital Casino, Play2Win Casino, 21Grand Casino, Casino FIZ, RockBet Casino, Tradition Casino, Superior Casino and SupremePlay Casino

Zombiezee Money :: NEW 20-Line 5 Reel Slot (Rival Gaming software)