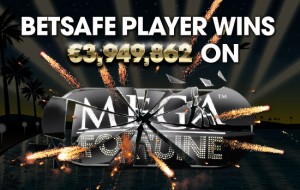 A €3,949,862 prize has been won on Net Entertainment's progressive jackpot slot, Mega Fortune™ via Betsafe Casino.
The jackpot, which equates to just under £3.3million or $5.3 milllion, was a new record payout for Betsafe. It was won by a man in his middle 30s from Norway on Friday March 30th, 2012. He commented: "This is incredible. I couldn't believe my eyes, and it all happened so very fast!"
The man, who has been a Betsafe customer since 2007, is the latest in a string of multi-million winners on Net Entertainment's progressive jackpot slot Mega Fortune™. In September 2011, the game awarded a single prize of €11.7 million, a world record jackpot payout for an online slots game. In January of this year, the jackpot fell again after building to a value of €6.9 million.
Mega Fortune™ is a progressive jackpot slot, which is part of Net Entertainment's jackpot network, pooling the liquidity of players from several of Europe's largest online casinos. During the last 26 months Net Entertainment's Mega Fortune has paid out just over €30 million to lucky players around the world.
"It is incredible how high the jackpot built up after being won just two months earlier. We would like to congratulate the winner on his huge success and we look forward to hopefully making many more millionaires in the coming months," said Per Eriksson, newly appointed CEO of Net Entertainment.
"We are pleased to see that this life changing win was paid out to one of our loyal customers that have been playing with us since 2007. It's a fantastic story and he managed to hit the jackpot only seconds after logging in to his account. A perfect example of how adrenaline rushed a casino adventure at Betsafe can be." Says Simon Furustig, Casino Manager at Betsafe.
€3.9 million won on Net Entertainment's Mega Fortune™