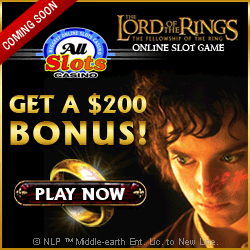 All Slots Online Casino, a proud member of the Jackpot Factory Group and a leading online casino, looks forward to releasing Microgaming's newest branded online slot game, The Lord of the Rings: The Fellowship of the Ring, in September. Featuring animation, themes and characters from the hit movie, this new slot game will bring the excitement of the big screen to the gaming arena, with thrilling features and huge payouts. All Slots Casino will celebrate the launch of this exciting game with a $100,000 promotion, running September 2nd through October 31st.
Noteworthy bonus features include free spins with a wild reel and the expanding wild Eye of Sauron. Microgaming has created this revolutionary new game, and has plans to develop additional slot games based on The Lord of the Rings: The Two Towers™ and The Lord of the Rings: The Return of the King™. The trilogy grossed $3 billion in worldwide box office receipts, and was nominated for a total of 30 Academy Awards®, of which they won 17, including Best Picture. The Lord of the Rings: The Fellowship of the Ring online slot will be available only to adults in countries where online gaming is permitted.
David Brickman, the Jackpot Factory's Vice President for Player Affairs, said, "It is truly an honour to be launching this legendary game. The Lord of the Rings has shaped pop culture for years, and the release of the movies between 2001 and 2003 brought the legends of Middle-earth to life. This new adaptation, in the form of online slot games, is sure to be popular among long-time Frodo fans and new players alike."
All Slots Casino :: The Lord of the Rings is coming!