All Slots Casino has just unveiled Untamed-Wolf Pack, the latest installment to its series of "Untamed" online slot games loaded with special features.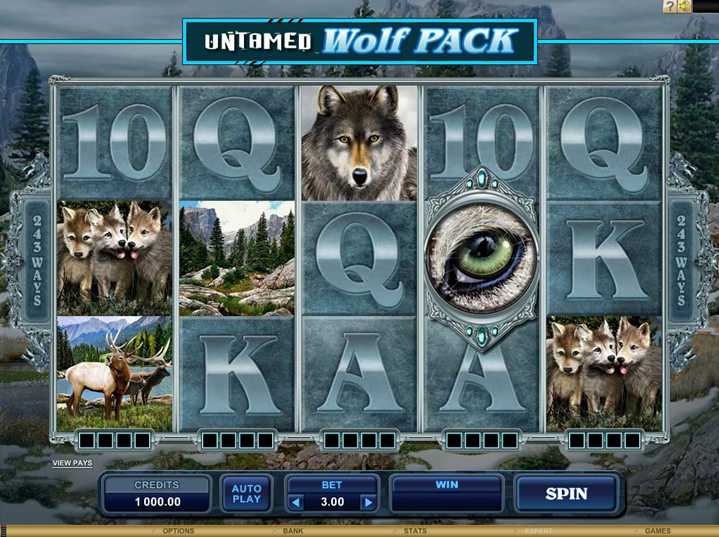 September 13, 2012 (Press Release) – On September 13, All Slots Casino unveiled the latest installment to its "Untamed" series of online slot games. This game, called Untamed-Wolf Pack Video Slot, follows in the footsteps of Untamed-Giant Panda and Untamed-Bengal Tiger, both of which were first released earlier in the year.
This latest game at All Slots Casino focuses on the Canadian arctic and the wolves that run wild therein and offers players 243 Ways to Win. "Ways to Win" are the latest trend in online slot games; they allow a player to win a payout whenever identical symbols appear anywhere on adjacent reels instead of being limited to designated paylines.
The Untamed-Wolf Pack online slot game includes four distinct and unconventional features. First, with the the Running Wilds™ feature, the Wild symbol will be stacked during the Free Spins section of the game. In a unique twist, the stack will increase by one symbol with each Free Spin so that by the 10th Free Spin players will see a stack of wild symbols 12 symbols tall.
There is a Lucky Nudge™ feature with Untamed-Wolf Pack Video Slot as well, allowing scatter symbols to show out from slightly above or below the reel edges. The Lucky Nudge will gently nudge the scatter symbol into its rightful place on the slot machine reel to trigger the Ten Free Spins feature for the lucky player.
Untamed-Wolf Pack also has a Collect-A-Wild™ feature in which a Wild Token is added to the counter beneath a reel every time a wild symbol lands on that reel. When a player has collected four Wild Tokens on the counter, the reel turns completely wild for the upcoming spin and will then remain so for four spins.
There is also a Your Gamble™ feature with Untamed-Wolf Pack Video Slot. This feature allows the player, after every winning spin, to put a portion of his payout safely in the bank and to gamble with the remaining portion at odds that the player himself gets to choose in order to try and increase his winning payout.
About All Slots Casino
All Slots Casino offers top value entertainment on its online and mobile casinos with a generous bonus program and wide variety of exciting casino games. All Slots Casino provides Internet gaming to adults in countries where online gaming is permitted and is one of the foremost slots-focused casinos on the Web. Powered by Microgaming and accredited by eCOGRA, All Slots advocates fair play, honesty, and fast payouts.
Untamed-Wolf Pack Slots Game Is Unveiled at All Slots Casino