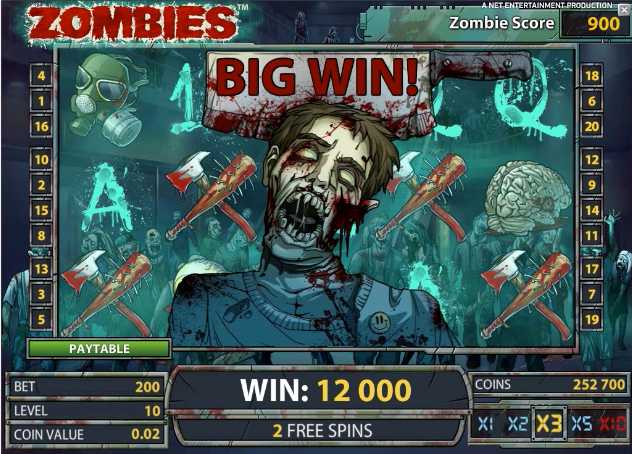 NetEnt's brand new video slot is captivating, scary and most of all: WILD! This winning combination gives you everything you can expect from the great NetEnt, and more. The theme is obviously Zombies!
The theme is obviously Zombies and as you get dragged into Zombie land the theme expands more and more and gives you a hard time making your way out into the fresh air again. You will not want to quit any time soon!
The graphics and animations of this game really gets one going. Just seeing the reels turn with all their morbid symbols flashing before your eyes is an experience on its own. The symbols are brains, eye balls, bloody axes and well, you get the drift; simply creepy and disgusting things. This Zombie game gets genuinely really scary at times!
Zombies video slot is all about the experience; the gaming experience and the play, but the emphasis is really on the Wilds. In this game there is not just one Wild. There are not two wilds. There are actually THREE different types of Wilds! This is not a common feature at all, but after this game release it will probably become a much more common feature. It is a really great feature since you get so much more variety with the different ways of getting to the wins. There is the standard Wild which is frequently represented on your 5 reels, the Wilds game that follows is one of the best we have seen yet. You get to shoot zombies! What can be more cool than that? The answer to that question must be the Random Wild that gives you a small chock as two Zombies randomly appears on the screen and gets shot in the head up to six times. After every charge has gone off a Wild symbol will appear to replace any of the symbols on your reels, except the Scatter symbol. And last but not least there is the Stacked wild which gives you high wins. Explore the Wilds on your own!
But Zombies is not only about getting Wilds! You can also get free spins and when you do, the free spins will multiply the win for you! You can get your win multiplied up to 10 times, which is kind of amazing one must confess. But the free spins does not only present the opportunity of a win, it is also very amusing. Between the free spins you will be put on a mission with one cause: to kill zombies! This mission will take place in a huge supermarket filled with zombies(of course) and it is up to you to use your gun and shoot them. Every zombie you hit, you make money; golden coins.
ZOMBIES – Do not miss this slot game, it will grab you and never let you go. Do not forget your shotgun. Good luck!
Zombies :: You can try this NEW Slot game right now at the following casinos: Unibet Casino, Maria Casino, Vera & John Casino, ComeOn Casino, Mr.Green Casino and RedBet Casino.
ZOMBIES :: NEW NetEnt video slot