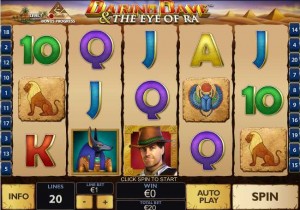 NICOSIA, CYPRUS, October 19, 2012 – Winner Casino is proud to announce the release of 4 new slot and scratch card games. The world renowned online casino has been busy since summer ended. Winner has added some of the most sought out online casino games.
Daring Dave and the Eye of Ra is the first in a quality list of games. Daring Dave is a fearless archaeologist on the hunt for ancient treasures. The slot game has a special feature not often seen. The bonus game has 3 levels.
Players who only reach the 2nd level can continue from the same place the next time they enter the bonus game. Things can get scary on the 3rd level – you may want to turn the lights on before you and Dave get going!
War Zone: Punisher is the next new online casino game that is now available for play at Winner. Based on the 2008 action movie, The Punisher is a violent vigilante who will stop at nothing in his quest to fight crime. The Punisher scratch card game features a Skull Bonus Game. Choose a skull to reveal your bonus payout!
The new Thor game will keep scratch card fans busy for hours. With a low minimum bet, scratch cards are more popular than ever. In the Thor scratch game, you are on the hunt for the Glowing Yellow Orb. Match one of them for a fun bonus game. Fans of Thor will recognize Thor's allies and enemies.
Everybody's Jackpot is a TV show themed slot game. The pretty red-haired host guides you through the game. Everybody's Jackpot comes with a progressive jackpot that has slot players going wild. A part of the winning jackpot goes to every player who has bet a certain amount in the preceding 24 hours. Yes, you can win while not even playing!!
Winner Casino also features a newly revamped Live Dealer Casino. The gorgeous dealers play blackjack, roulette, baccarat and Hold 'Em. The Winner Casino Live Dealer is filmed in a real casino with all of the bells and whistles. Players can chat with the dealers and even hear them speak.
Winner Casino is one of the leading online gaming web sites. The online casino has something to offer both experienced and new players alike. Winner recently created a millionaire from the Monty Python Spamalot slot game. Who will be Winner's next millionaire? Is it you?
Winner Casino Announces 4 New Casino Games