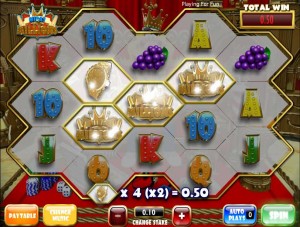 Midas Millions is now available at Virgin Casino and Virgin Bingo.
Midas Millions is a 5-reel game (ASH software) with the reels in a honeycomb structure. This game does not have any win lines and instead pays out based on groups of symbols being next to each other. This creates a very large variety of wins (over 100,000 possible ways to win!).
The game features connecting wilds (which turns symbols between them to wild) and a Super Wild symbol (which turns some of the symbols around it to wild). Both of these will also pay x2 normal wins when King Midas turns the symbols to gold wilds.
It also features freespins which have Locked Wilds where more and more symbols can get locked as wilds and stay there for the remaining freespins and so can make bigger and bigger wins as freespins goes on.
This game has a Return to Player of 94.02%.
How To Play
Press 'SPIN' to start the game.
The reels will spin and eventually stop at random.
Winnings are paid out based on the groups that the symbols form – having 4 or more of the same symbol in a group of touching symbols produces a win.
The symbols that form the group will be highlighted and the win details shown at the bottom.
It is possible to have more than 1 winning group in a go.
King Midas will sit behind the semi transparent reels and will touch symbols to turn them into gold wild symbols, this makes them pay out at x2 the normal win.
The symbols that will be turned to gold wilds by Midas will be symbols between 2 connecting wilds on the same diagonal line. Also if a Super Wild symbol appears anywhere on the reels then Midas will touch and change up to 6 of the symbols around this to make them gold wilds.
If there are 3 freespin symbols on the reel then the freespin bonus will be triggered (This is started after any wild symbols have been changed and the groups have been calculated and winnings for those paid out).
Wild Symbols
Wild symbols can substitute for any other symbol (except the freespins symbol).
They can only substitute for one symbol and be used in one win – they cannot be used in two different groups.
When there is more than one symbol that the wild could substitute for to make a win then it will be used for the win that makes the highest payout. If two different groups make the same payout then it will be used for the symbol that is higher up the pay table.
The symbols that were touched by Midas (for connecting and Super Wild) will turn into gold wild symbols. Any group that contains one or more gold wilds will all turn gold and the winnings will be doubled.
Two connecting wilds next to each other (with no symbols in-between) will not be turned gold as there are no symbols for Midas to touch – only Midas touching a symbol can make it gold.
Super Wild
The Super Wild does not connect with other wilds.
It is only possible to get a Super Wild on the middle reel.
Freespins
If 3 Freespin symbols appear on the reels then the freespin bonus will start. Press the START button to begin the freespins.
You will always get 10 freespins and the winnings in these are based on using the same stake that had last been used in the normal game.
Freespins uses a different set of reel bands and with these it is not possible to trigger freespins or get connecting wilds or the Super Wild.
After each free spin King Midas will randomly select either 0, 1 or 2 symbols to change to a locked wild. These symbols will then stay as a wild symbol for the remaining freespins and so help to form wins.
These Locked Wild symbols cannot turn to gold and so do not pay x2 at all.
At the end of the freespins then you are shown a summary of your total winnings in freespins. If these are less than 10 times your stake then King Midas will award you an extra mystery prize to add to those winnings, this could be up to 20 times your stake.
Virgin Games :: Midas Millions – PLAY NOW!
Virgin Casino and Virgin Bingo :: NEW Game – Midas Millions