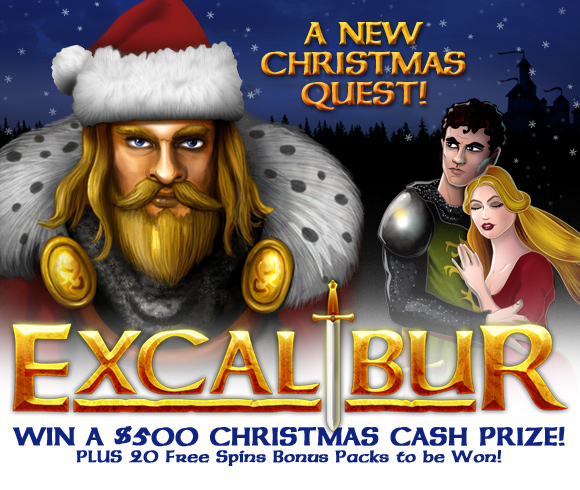 This Christmas, Players at Tower Gaming (Net Entertainment Software) can put themselves in the running to win a $500 Cash Prize or one of 20 Free Spins Bonus Packs. All players are eligible to win the $500 Cash Prize by depositing and playing for Real Money on Excalibur, a 5 Reel Video Slot Game.
From the 17th December to the 31st, 2010, each day playing Excalibur for Real Money at Tower Gaming will award a ticket to a Prize Draw, to occur on January 1st, 2010. Players can maximize their chances of winning the $500 Cash Prize by playing each day for Real Money, which will mean 15 entries into the draw for all the Prizes. In addition to the $500 Cash Prize, players are also in the running for 20 Free Spin Bonus Packs, which will be awarded to 20 other players in the draw! To be in the running, players simply have to email pitboss@towergaming.com and mention their Tower Gaming Username.
New Players also stand to gain a $100 Free Deposit Bonus if it is their first time playing in the Tower Gaming Casino! It's all happening this Christmas at Tower Gaming!
*** What is Excalibur?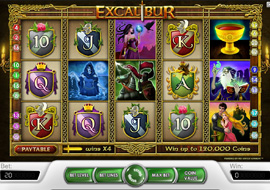 Tap into the power and magic of Excalibur when you play this 5 reel, 20 bet line video slot. Excalibur combines the imagery and resonance of medieval lore with state-of-the-art video slot technology.
The result is a truly legendary slot experience that brings you the riches and wonder of King Arthur's famed court. Hit the Golden Wild symbol, you will multiply your winnings four times for large wins and if you win triple in free spins you can win up to 120,000 coins in one go!
Tower Gaming's Christmas Casino Quest to Win $500!