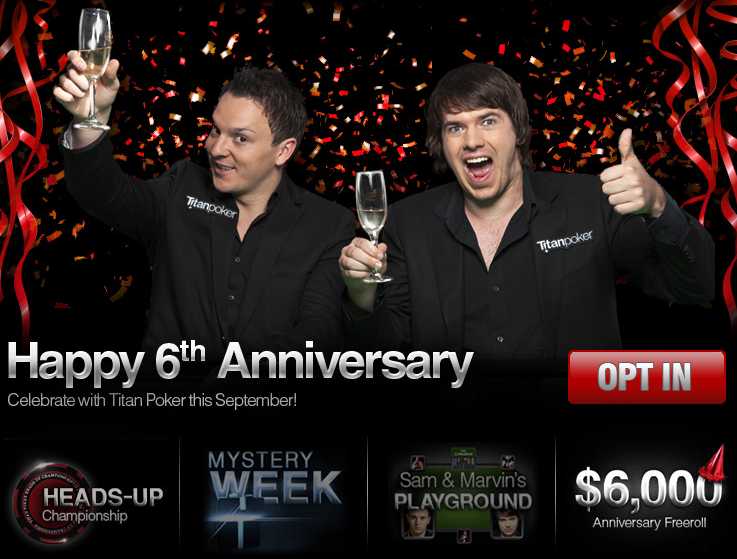 The leading online poker room in Europe marks 6 years of operation with promotions that will attract all types of poker players.
LONDON, September 1, 2011 /PRNewswire/ Titan Poker, the leading online poker room in Europe, is staging its first-ever Heads-Up Championship as part of its 6th year anniversary poker promotions during the month of September.
A total of over $25,000 in prizes will be awarded to players competing in the various stages of the Heads-Up Championship with $7,500 reserved for the top 8 players in the finals. Players interested in competing in the elimination bracket format of the championship must secure their seats by winning one of the 24-hour races scheduled on Sundays and Tuesdays during the month.
Race winners will be assigned a berth in the first round of the Heads-Up Championship on September 28th. Quarter-final and semi-final matches will be staged on September 29th, with the $3,000 Heads-Up Championship Final tournament set for Sunday, October 2nd.
In addition to the Heads-Up activities, all types of poker players will find plenty of action to keep them busy during the 6th Year Anniversary celebrations. Players will be eager to gain entrance to Titan Poker's $6,000 Anniversary Freeroll, which will take place on Thursday, October 6th at 20:00 GMT+1. To be eligible to participate, players must earn at least 60 Points during the month of September.
Players will be rewarded with surprise benefits and promotions during the month as part of Titan Poker's Mystery Week Giveaway Poker Promotion. In order to be eligible for the Heads-Up Championship, the freeroll tournament, and the Mystery Week giveaways, players must opt-in to indicate their desire to participate in the promotions.
Poker novices and veteran poker players alike are invited to try out the free poker download at Titan Poker and join the online poker room in its 6th year anniversary celebrations.
About Titan Poker:
Titan Poker is the number one online poker room in Europe and part of the iPoker Network. Titan Poker's software is developed and maintained by Playtech, a public company and leading gaming software developer. With tens of thousands of online players at peak hours, Titan Poker guarantees millions of dollars in monthly prizes, offers an easily redeemed first deposit bonus, features special sit 'n' go tournaments with progressive jackpots as high as $300,000, and awards players with entries to major worldwide poker tournaments.
Titan Poker 6th Year Anniversary Features Heads-Up Championship