(Press release) – A brand new online casino has gone live on the net. "RedSlots" caters especially for the experienced and sophisticated player who has the understanding and means of using a unique and highly attractive array of bonus plans – but first, a little about the casino itself.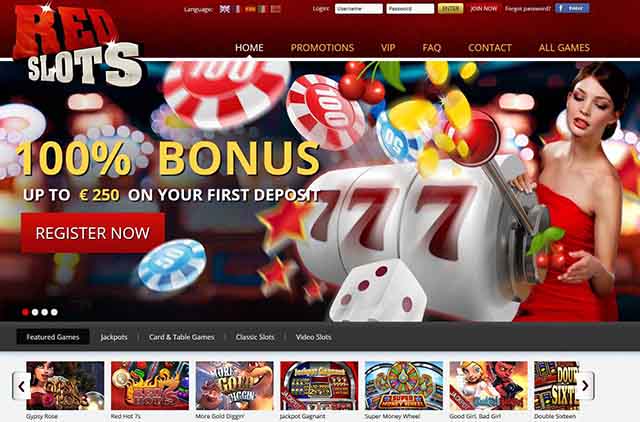 Crème de la Crème
RedSlots delivers the best of gaming technology with a line-up of fast-moving interactive 3D audio visual experiences that will take your breath away by the sheer virtual reality of it all. The fantasy stretches your imagination far and wide and includes wild-west showdowns, sex appeal, science fiction and ethnic authenticity around the globe, all laced with gaming features that only network gaming can provide, such as explosions, embedded video clips, collapsing symbols and bags of humour.
Redslots primary theme is top-of-the-line 3D fantasy slots, including superb replicas of classic one-armed bandits and fruit machines. For those with a preference to the green felt on the table, RedSlots also offers an impressive list of roulette, poker, blackjack and more.
RedSlots Casino's reaches out to a sophisticated clientele and so it goes without saying that it is available to clients in desktop, laptop, tablet and mobile phone formats, so you won't have to wait until you get home. The casino can be played in any of 4 exclusive non-languages: French, Italian, Spanish and Russian, in addition to the international English gaming interface.
Gifts Galore
No other online casino will pamper you like RedSlots. Just open an account and you've acquired a 7 Euro bonus. Make your first deposit and get it instantly doubled with a bonus of up to 250 Euro. Every deposit you make thereafter (yes, forever) will give you an immediate bonus of 10% or more up to 25%. They don't just claim to cater for the well-healed punter; they put their money where their mouth is. Many successful online gamblers like to save their bets for the weekend, where they can relax from the rat-race of the working week. With this in mind, RedSlots gives clients a fixed bonus of 50% on deposits made over the weekend. For those that find some time for gambling during the week, a special bonus of 30% is given when the random 'happy hour' banner is showing (displayed randomly for 2 hours each time). The bonuses ceiling out at up to 250 Euro.
VIP's – Bonus of up to 25,000 Euro
If you thought what's stated above is VIP treatment, you'll be surprised to learn that RedSlots has a super luxury status that it grants to its select family of VIP members that includes immediate cashouts, invitations to glamorous events, free chips and spins in special VIP-only promotions, VIP-level table limits and a personal VIP manager ready to advise you day and night. And on top of all that you get a 'ceilingless' deposit bonus of 10%-25% and that amounts to between 500 Euro and 25,000 Euro bonus on every deposit.
Take a look at RedSlots and decide for yourself.

RedSlots Casino :: New Premium 3D Slot Casino Online