Welcome to Polar Explorer, an incredible game featuring a blizzard of excitement around ever snow-filled corner. With every spin, you'll be transported to a winter wonderland complete with icy caves, majestic arctic creatures, and incredible sights. But despite all that white snow, there's tons of green with your name on it.
With three bonus rounds, two big jackpots, a feature guarantee, and a cool, new way to enter bonus rounds whenever you like, Polar Explorer will leave you speechless—and not just because your lips are frozen from chilling in the arctic!
Featuring a top award of 5,000 times per line, Polar Explorer is guaranteed to send chills up and down your spine with every spin. And that's just the beginning. To get in on the action, just select your bet and number of paylines you'd like to play. You can play up to 25 of them, and with all the bonus features, you'll definitely want to.
Polar Explorer includes an Explorer Feature, a Discovery Feature, and a Hidden Treasure Feature—each one bursting with free spins and extra bonus money waiting to be won.
Polar Explorer video slot :: How to Play
Polar Explorer is as easy to play as it is fun. To start, simply choose the number of lines you'd like to play, along with how much you'd like to bet. Once you're happy with your bet, just hit Spin. The reels will do their thing and stop shortly thereafter. You'll get paid out based on how many symbols match, and based on what symbols they are. If you hit the right combination of symbols, you could find yourself in a bonus round where each spin costs you absolutely nothing.
There are two key symbols to watch out for—the Explorer symbol and the Ship symbol. The Explorer is the substitute symbol and it has the power to substitute for all other symbols in the game, except for the Ship symbol. That's the scatter symbol, and they get added to line wins and are then multiplied by the bet.
Polar Explorer video slot :: Game Rules
Polar Explorer is a 25-variable payline game. Scatter wins in this online slots game are added to line wins. They're also multiplied by whatever the slot bet is. All symbols in Polar Explorer pay left to right, with the exception of the Ship symbol, which pays in any direction. The Explorer symbol, which is the substitute symbol in Polar Explorer, can substitute for all other symbols in the game, with the exception of the Ship symbol.
Polar Explorer video slot :: Game Strategy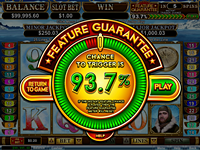 Some online slots players prefer to play the minimum number of credits per spin. But in Polar Explorer, we recommend that you avoid this strategy. Instead, play the max. Not only will you have a chance to win more, but you'll also ensure that you're keeping the Feature Guarantee active. The Feature Guarantee ensures that you enter a bonus round at least once every 125 spins (of course, many players hit a bonus round much more frequently).
Polar Explorer video slot :: Game Tips
If you've been waiting forever for a bonus round to kick in, you can try and trigger it automatically. Polar Explorer comes with a special Trigger Guarantee. That means that if you haven't hit a bonus round in 125 spins, the game will automatically catapult you into the Hidden Treasure Feature. But you can opt to enter the feature before you've reached 125 spins, assuming you haven't randomly entered the bonus round beforehand. You'll be presented with a wheel to spin, and if you land on green, you'll enter the bonus round. Keep in mind that, regardless of what happens, the Trigger Guarantee countdown clock will reset to 125 games.
Polar Explorer :: You can try this NEW Slot game right now at the following casinos: Cool Cat Casino, Sloto' Cash Casino, Desert Nights Casino, High Noon Casino and Aladdin's Gold Casino.
Polar Explorer :: NEW Real-Time Gaming (RTG) video slot