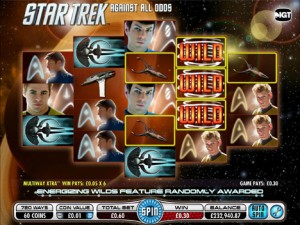 STAR TREK™ Against All Odds :: Story
In a desperate mission to stop the Romulan ship, Narada, from destroying Earth, the Enterprise follows the Narada and hides undetected in Titan's magnetic field. Spock and Kirk secretly beam aboard the Narada to recover the red matter, a black hole creation device. As planned, Spock finds the red matter inside the Jellyfish, a captured Vulcan ship.
Spock commandeers the Jellyfish and blasts into warp with the Naradain hot pursuit. The ships drop out of warp, and the Jellyfish turns to collide with the Narada. The Narada fires missiles at Spock, even though the Jellyfishs till has the red matter aboard. The Enterprise arrives suddenly and destroys the Romulan missiles in flight, allowing Spock to escape unharmed.
Scotty beams Kirk and Spock back to the Enterprise, right before the Jellyfish collides with the Narada and explodes. The explosion of the Jellyfish releases the entire stockpile of red matter, creating a black hole that swallows the Narada.
The gravitational pull of the black hole tugs on the Enterprise, keeping it from escaping, even with its engines at warp speed. The pressure heavily damages the ship as Kirk orders Scotty to get them out of there at all costs. Scotty ejects the warp core and detonates it near the black hole, pushing the Enterprise to safety.
STAR TREK™ Against All Odds :: Introduction
Enjoy 720 Ways to Win for Only 60 Coins
Win Both Ways with Left-to-Right and Right-to-Left Pays
Energize the Reels with 2 or More Symbols Turning Wild in the Energizing Wilds Feature
Take Control of the Weapons in the Enterprise Defender Bonus
Destroy Incoming Romulan Missiles and Spin a Wheel for Reward
Achieve Higher Scores for a Chance at Higher Awards
Experience Nine Unique Wheels with Awards Up to 22,500X
STAR TREK™ Against All Odds :: Game Details
Paylines: 720 Ways to Win
Features: Energizing Wilds and MultiWay Xtra™
Bonus: Enterprise Defender Bonus
Minimum Bet: 0.60
Maximum Bet: 300.00
Maximum Payout: 250,000.00
RTP: 95.00%
STAR TREK™ Against All Odds :: You can try this NEW Slot game right now at the following casinos: Mr. Green Casino, Virgin Casino, Vera & John Casino and Kerching Casino.
* * *
Virgin Casino :: There is an exclusive promotion for players of the Star Trek Against All Odds slot game – between 25th October 2012 until 25th November 2012 each player who wagers a minimum of £10 per day gains one entry into the prize draw where the first prize is either a trip for two to the Star Trek Exhibition in Orlando, Florida USA (including flights, hotel accommodation and spending money) or a £5,000 cash alternative.
Virgin Casino :: Star Trek Against All Odds slot game – PLAY NOW!
NEW Slot Game Release – Star Trek Against All Odds (IGT Software)