ISLE OF MAN – Microgaming, the world's largest provider of online gaming software, is excited to reveal its selection of scary new Flash games.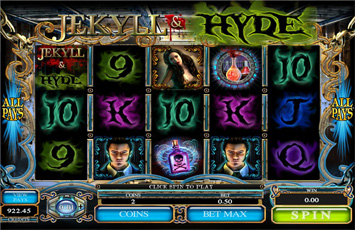 Jekyll and Hyde is based on the tale of the dual nature of good and evil, as an experiment goes awry. Gamers can watch Jekyll change into the monster that is Hyde. The classic transformation offers the chance for players to gather hordes of cash.
This is an All Pays game, which pays on adjacent reels from left to right, with three scatter symbols on any reel which triggers the allusive bonus feature.
Due to the scary amounts of cash prizes on offer, players will be keeping their fingers crossed for Jekyll to morph into Hyde and with each metamorphosis, they have even greater chances of winning larger sums of money. The horrifying tale of Jekyll and Hyde is revamped by Microgaming and crafted with stunning artwork, eerie music and an innovative bonus feature which will have gamers screaming, not with terror, but with delight.
Jekyll and Hyde :: You can try this NEW Slot game right now at the following casinos: Roxy Palace Casino and Casino Splendido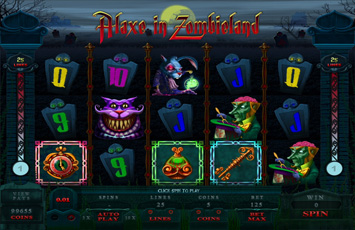 Alaxe in Zombieland is a "terrifying" addition to Microgaming's portfolio. The innocent characters in Alice in Wonderland are well-known, but in Zombieland, they are all "zombiefied", except our heroine Alaxe. Players help Alaxe hack her way through Zombieland to bring them frightening amounts of cash!
This is a 25 line video slot game, with three features which trigger bonuses: the tea party free spin, the Red Queen's Adventure feature and the Gravestones feature.
Alaxe in Zombieland is unique in the way the familiar characters are all "un-dead." Alaxe battles the evil zombies that are usually thought of as beloved figures, including the Mad Hatter and the Cheshire cat, to keep gamers winning. There are also multiple bonuses that lead to bigger wins.
Alaxe in Zombieland :: You can try this NEW Slot game right now at the following casinos: Roxy Palace Casino and Casino Splendido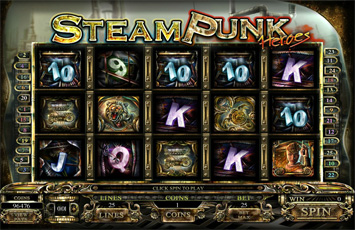 Steam Punk Heroes is crafted in the style of a sub-genre fantasy. Steam Punk is a setting of alternative history where steam is still the primary source of power – and offers players the power of winning.
This is a 25 line, five reel video slot game with a Steam Punked Free Spin feature, which is triggered whenever three or more scatter symbols appear anywhere on reels one to five. Two giant steam powered gears allow the player to stop on the greatest number of free spins and multipliers, meaning that they will benefit from the biggest cash prize.
Steam Punk Heroes presents characters and gadgets reminiscent to the era of H.G. Wells. The steam-powered contraptions exist for only one reason – to deliver players trainloads of cash! Innovative artwork with spectacular imagination is aimed to impress all players.
Steam Punk Heroes :: You can try this NEW Slot game right now at the following casinos: Roxy Palace Casino and Casino Splendido
About Microgaming:
Since Microgaming developed the first true online Casino software over a decade ago, it has led the industry in providing innovative, reliable gaming solutions to over 160 market-leading gaming sites, worldwide. This unrivalled technology company offers over 600 unique game titles and more than 1,000 game variants, in 24 languages, across online, land-based, and mobile platforms. Its renowned dedication to innovation provides the foundation to consistently deliver award-winning Casino, Poker, Bingo, Live, Progressives and Network Gaming software, as well as managed services, to a global audience. Microgaming content is also available through QuickFire, offering a supremely versatile, unique gaming experience for operators and players.
Microgaming provides the software for the world's largest Progressive Jackpot Network and has paid out over €320million in total. Its software also created the world's first online slot tournament millionaire and one of the largest online jackpot wins in history, at a staggering €6.37m. As a founding member of eCOGRA and IGC, Microgaming is at the forefront of initiatives that set the highest standards in the gaming industry, most notably in the areas of fair gaming, responsible operator conduct and player protection.
Microgaming Announces New Scary Flash Games