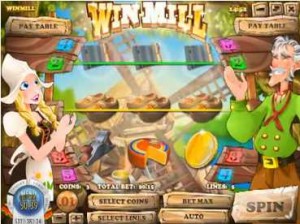 Dendera Casino (US Players Welcome!) and Rival Gaming is proud to announce the launch of Win Mill, a 5-line, 3 reel slot.
Put on your clogs and give the Win Mill a spin in Rival's latest 3 reel slot. Watch the carpenter and his daughter cheer you on from the sidelines as the Win Mill turns. Icons include a cheese wheel, wooden clogs, a saw, a hand plane, tulips, and a golden coin.
Win Mill features two quick and easy bonus rounds to increase players winnings
Be prepared for the random "Find The Coin" Bonus! The girl has a coin hidden in one of her hands, choose the hand that is holding the coin to win.
Get ready to catch golden coins during the Win Mill Bonus Round when you hit 3 or more Golden Coin icons. Catch the coins as they bounce out of the Win Mill to win.
Dendera Casino launch Win Mill 7 August