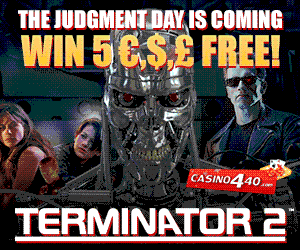 The judgment day is coming!
It's true!! so try to save yourself from the invasion. Just run to your computer, and try to defeat all the war machines in this great and new slot.
Yes, Microgaming, the world's largest gaming software developer, acquired the rights to develop, design and launch a slot game which you just know is going to be the type of game you will want to play for hours. Why? Because this slot is sure to become one of your top thanks to the wide range of unique and exclusive features and bonus that this new Terminator 2 slot has on offer.
Terminator 2 is a 5 reel slot, with 243 ways to win on each spin. Like a lot or slots, but, a player can enjoy 1,024 winning possible combinations in the bonus round.
Free spins round will give 10 spins that are awarded using a 1024 win line reel set.
One last advice, try to collect the 3 energy balls, you will check one of the coolest animated scenes.
So there's no time to waste,
Come and beat the machines!
Use the CODE: TERMINATOR and you will receive 5 €,$,£ that Casino440 is giving for all the players.
FOR FREE!
(*** Promotion ends at July 20, 2014)

Casino440 :: Defeat all the Terminators with 5 €,$,£ FREE!