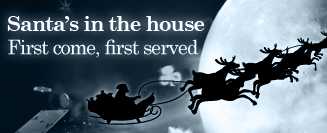 You'd better brush up on your win-win negotiation skills! Because, from 18th December through to 22nd December, you have a chance to Skype YourSanta2011 and win up to €500 in bonuses twice a day. So, if you've been good this year 🙂 , don't miss the opportunity to claim your share of the whopping €40,000 prize pool.
Santa's in the house:
Online Casino: Casino Swiss
When: 18th -22nd December, 2011.
How: Add the user YourSanta2011 to your contact list on Skype. Call him between 10am – 7pm GMT (or 11am – 8pm CET) and ask for your holiday bonus.

Casino Swiss :: Santa's in the house starts 18th December, 2011