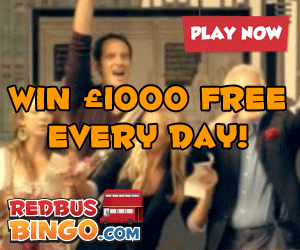 RedBus Bingo, one of the fastest growing new bingo sites on the UK, has signed a sponsorship deal that will make it a household name all across the UK. This bingo site is the new sponsor for top rated TV game show All Star Family Fortunes. Broadcast on ITV1 at prime time on Saturday evenings at 7pm, RedBus Bingo bumpers will be seen before, during and after each episode of All Star Family Fortunes till Christmas 2010.
This deal involves a massive expenditure and only the bigger UK bingo sites have marketing budgets that allow such expense. RedBus Bingo has clearly arrived as a big player on the UK bingo circuit and is now moving out of the Internet as a medium and moving onto television screens across the nation. No longer restricted to computer screens, RedBus Bingo will be seen on every TV screen that is tuned in to All Star Family Fortunes this Saturday onwards!
Bingo as a game is traditionally perceived as a social and family pastime. In its online version too, it has not lost its appeal as a game that can be enjoyed with family and loved ones. The All Star Family Fortunes game format also is about families playing together and having a lot of fun while they do. Thus RedBus Bingo found All Star Family Fortunes an obvious choice as a TV show that could sponsor.
Six commercials have been filmed and these will be aired with every episode of All Star Family Fortunes on ITV1. These adverts have been made by Hero Media. Shooting was completed all in one day in spite of the cast and crew having to tear across the city to different locations.
The films depict two families playing a bingo game that takes place all over the streets of London moving around from Big Ben, Camden and even the London Eye. The two families are the Halls and the Oswalds. They have to find the bingo numbers on the red London buses and mark them on their bingo cards. Ultimately the Oswalds win. The red London bus is also the logo of RedBus Bingo.
RedBus Bingo hopes to become a nationally well known bingo brand and this sponsorship deal is the perfect way to accomplish this. All Star Family Fortunes boasts an impressive string of celebrities who have featured on the show making it incredibly popular. Famous contestants on this show include Uri Geller, Duncan Bannatyne, Coleen Nolan, Joe Swash, John Barrowman and Greg Rudeski among others. The show is presented by the very natty Vernon Kay.
RedBus Bingo itself is an excellent online bingo site that gives its players a fantastic array of online bingo and Instant games to choose from. Both 90 ball and 75 ball games are available with a slew of daily, weekly and monthly guaranteed and progressive jackpots. Special bingo promotions with spectacular prizes like holidays abroad and huge cash jackpots are regularly featured here. free bingo, penny bingo, team bingo and many other variations make the online bingo games here fun to play and interesting too.
The extensive exposure that the RedBus Bingo brand will get from sponsoring All Star Family Fortunes every Saturday till Christmas 2010 should result in a marked increase in traffic to the bingo site itself and a rise in business volumes and conversion rates too. RedBus Bingo is poised to become one of the best known online bingo brands in the UK with this sponsorship agreement.
All Star Family Fortunes :: RedBus Bingo sponsors TV game show