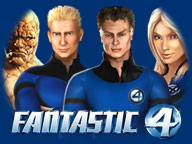 Titan Casino $1.4 million winner enjoys the ultimate win playing Fantastic Four slots on autoplay
On Saturday October 29th, one lucky casino player from Chile hit the ultimate jackpot and became an instant millionaire when she won $1,378,389.83 playing Fantastic Four ultimate slots at Titan Casino (Playtech software).
After months of being built up one game at a time, the progressive jackpot prize was won in a single spin, as one fortunate player took home what is known as the Marvel Ultimate Power jackpot while playing Fantastic Four on 'autoplay', a feature in which 10 rounds are automatically played in succession with a single click of the 'Auto Start' button. When playing in autoplay, players can walk away from the computer and still, as proven in this case, win millions.
The Marvel Ultimate Power jackpot is one of four Marvel Mystery progressive jackpots associated with all of Titan Casino's Marvel slot games including The Incredible Hulk, Blade, Elektra and Iron Man 2.
In addition to the Marvel progressive jackpot games, there are another 18 progressive jackpots available to be won at Titan Casino for a grand total of $8 million in prize money. Other particularly popular casino progressive jackpots include Gold Rally and Beach Life slots. As of the time of writing the Beach Life jackpot stands at over $4.8 million!
In addition to progressive jackpots, Titan Casino offers a wide range of popular games including online roulette, slots, video poker, baccarat, blackjack and more.
All of Titan Casino's online games can be played either by downloading the free casino software or by registering and logging in to play directly on the Titan Casino platform. For added convenience, the same casino account (as in username and password) can be used for both forms of play.

$1.4 Million Marvel Jackpot Won Playing Fantastic Four on Autoplay at Titan Casino