SAN JOSE, COSTA RICA, December 21, 2012 – Prism Casino is home to some of the most lucrative bonuses and widest selection of casino games on the internet. They use cutting edge software to provide their customers with a top notch gaming experience that is second to none. Prism Casino is a fully licensed and regulated company with 24/7 customer support.
The Ghosts of Christmas past, present and future have arrived here at Prism Casino all December long. Each of the ghosts will reward you with a different bonus that is sure to make your holidays a lot brighter. Simply make a deposit and enter one of the ghost's bonus codes to redeem your rewards.
Deposit $30 or more and enter bonus code PRESENTS to get a 250% bonus. If you deposit $100 or more and use the same bonus code, the Ghost of Christmas Past will give you give 100% of your losses back on that deposit.
-"We wanted to remind everyone that Christmas is a time to give, but that doesn't really mean you can't receive cool gifts as well. The Scrooges Christmas Spirits Promo was designed to make our players smile and get more chance to win. We loved how well it has been received by everyone! – Said Chris DiAngelo, Marketing Manager at Prism Casino.
Each time you use the bonus code, Presents, you will be entered into the end of the month drawing to win a $5,000 free chip! There is no limit to the number of times you can redeem this bonus. The more times you use it, the more chances you have to win the $500 free chip.
Remember that all these bonuses are subject to different terms and conditions, which you can find advertised at Prism Casino. You can also visit their Live Chat for further assistance. For more information check out the promotions page at Prism Casino.
Prism Casino has some of the best online casino games you will find. They have been in business for almost a decade and during this time they have taken the gaming industry to the next level. Today, Prism Casino offers the best extra bonuses and features you can expect from one of the world's best casinos online, with the added value that they have built on one of the safest gaming platforms in the industry.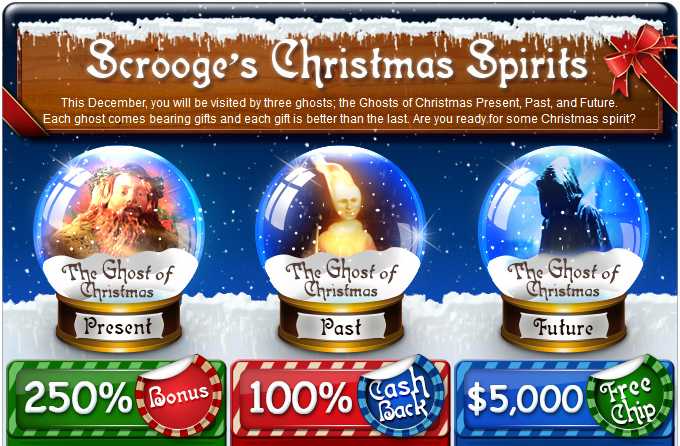 The Three Ghosts of Christmas Arrived at Prism Casino with Holiday Promos from Beyond