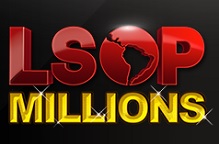 San Jose, Costa Rica – December 20, 2013 – Americas Cardroom is making this Sunday the most anticipated day of the month for Hold'em fans that want to take their game offline. The online poker site is announcing 10 packages this Sunday for the $1 million guaranteed LSOP, a land-based poker tournament set to get underway this March in Panama.
"This time of the year, things tend to get quiet for online poker players, but we refuse to slow down," stated Michael Harris, spokesperson for Americas Cardroom. "So on Sunday, we're paying out another 10 packages for one of the most anticipated LSOP events in history. We love hanging out with our players at LSOP events. As anyone who has been with us to Punta Cana for the last four years can tell you, they go all out and do an excellent job. We can't wait to see what's in store for Panama."
The 10-package guarantee takes place this Sunday, December 22nd at 6:00pm ET. The No Limit Hold'em tournament costs $50+$5 to get into and guarantees to pay out at least 10 packages for the LSOP Millions. Each package includes:
• The LSOP Millions Main Event buy-in, valued at $750+$100
• 6-night hotel accommodation (double occupancy) at Hard Rock Megapolis Panama
• Breakfast
• $20 daily credit to spend in the hotel bar
• Access to a 24/7 VIP support line during the Event
• Gift Bag
• $750 Cash for travel expenses
The LSOP Millions is set to get underway at Majestic Casino in Panama from March 7th through 15th. The land-based tournament is revolutionizing how players qualify for the event. The LSOP Millions features multiple Day 1 events happening all over the world—several weeks before the action in Panama begins. Players who make it through Day 1 in their city will earn a seat at the Day 2 table in Panama. This provides players with an opportunity to make the money before they even hop on a plane.
Day 1 will also be held in Panama, and players who win a seat through the 10-package satellites at Americas Cardroom will play Day 1 there.
More information on the LSOP Millions and this week's 10-package guarantee can be found at AmericasCardroom.eu.

About Americas Cardroom:
Americas Cardroom joined the Winning Poker Network in 2011. The Winning Poker Network has one of the longest and trusted online names in the industry and has been in existence since 2001. Americas Cardroom accepts players from the US market and the rest of the world. Rated first place for payment processing and cashout reliability repeatedly in 2012 and 2013, Americas Cardroom offers outstanding customer service and a friendly environment for all poker players around the world.
Last 10-Package Guarantee of the Year for the LSOP Millions this Sunday at Americas Cardroom