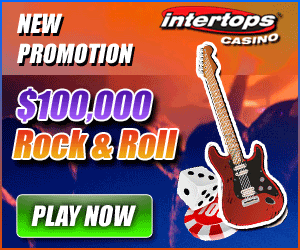 ST. JOHNS, Antigua (PRESS RELEASE) – This month players that rock their way to the Intertops Casino Rock & Roll Hall of Fame will win big prizes. Every week $30,000 will be awarded and a final grand prize of $1000 cash will bring the total giveaways to $100,000. Rock on!
Until April 29, $30,000 in prizes will be awarded every week. The top player on the leaderboard will receive $800, the second place player will receive $700, third gets $600 and the next seven players will receive $500 each. Every Monday, 250 players in all will receive prizes.
All Intertops Casino players need to do to make their way to the top of the leaderboard is play their favorite casino games. They can choose from slots like the new Ninja Star, big jackpot slots games like Jackpot Pinatas (jackpot currently over $1.7 million) or traditional table games like Blackjack and Roulette. The Rock & Roll Leaderboard gives players' current rankings and since it's re-set every Monday they can win bonus money every week.
Each week the top 15 players will be entered in a Grand Prize Draw for a $1,000 cash prize to be held on April 30th.
Every Thursday another 50 randomly selected players will be awarded a free bonus of up to $150 based on their game play the previous Monday through Wednesday.
Intertops is one of the very first online casinos and is trusted by players around the world. Intertops also operates a popular poker room and sportsbook.
$100,000 Rock and Roll Competition beginning at Intertops Casino